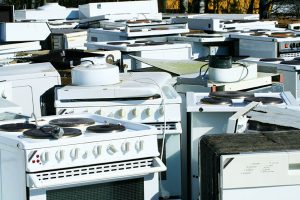 Providing less than a day of warning, China began imposing a 25 percent tariff on recovered aluminum shipments from the U.S. this week.
The metal is one among 128 U.S. products China slapped duties on starting April 2. The Ministry of Commerce announced the penalties in a press release posted at 7 a.m. Monday local time, or Sunday evening in the U.S.
China previously threatened to impose the penalties on scrap aluminum, but the timing had been up in the air. On March 23, the Ministry of Commerce first announced its intent to respond to U.S. tariffs on Chinese steel and aluminum with it's own list of duties. On China's list was $3 billion worth of U.S. goods, including agricultural products and steel pipe. At the bottom of the list was aluminum.
Meanwhile, Trump administration officials are drafting a list of additional Chinese products to slap tariffs on, angering officials in Beijing.
The Ministry of Commerce in March said China's aluminum tariffs would go into effect as part of a second phase of penalties that also included pork products. That second phase would go into effect "after further evaluating the impact of the U.S. measures on China," the Ministry of Commerce said at the time.
But on Monday China imposed tariffs on all 128 products, citing public comments expressing support for the measures. The New York Times provided more information on the high-level back and forth between the two countries.
An analysis by Resource Recycling, sister publication to E-Scrap News, shows China is the single largest recipient of scrap aluminum exported from U.S. shores. Last year, the U.S. sent China nearly 820,000 metric tons of scrap aluminum valued at $1.17 billion. That equaled 54 percent of all U.S. scrap aluminum exports.
Photo credit: Alexei Novikov/Shutterstock
More stories about exports