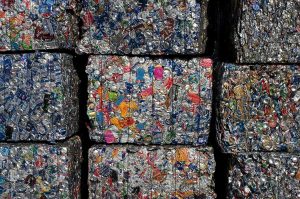 After wounding U.S. exports of scrap paper and plastics, China is now preparing to cripple recovered aluminum shipments. This time, the justification isn't environmental protection but tariff retaliation.
China last week said it intends to enact a 25 percent duty on U.S. scrap aluminum. More than half of U.S. scrap aluminum exports land at Chinese ports.
China's aluminum move is part of a larger tariff package in response to the tariffs President Donald Trump imposed on Chinese steel and aluminum. But China's Commerce Ministry also said the scrap aluminum penalty wouldn't be imposed until after China evaluates the next list of tariffs U.S. officials are drafting.
"China urges the United States to resolve China's concerns as soon as possible, and resolve differences through dialogue and consultation, thus avoiding harming the overall situation of Sino-U.S. cooperation," according to a Ministry of Commerce statement.
Recovered aluminum is just one category among $3 billion worth of U.S. goods China is targeting. Also included are a number of agricultural products and steel pipes. The Wall Street Journal described China's threat as a "warning shot," because it doesn't include soybeans, sorghum and Boeing airplanes. Duties on those products could cause substantially more damage to U.S. companies, according to the newspaper.
The 25 percent aluminum tariff would target used beverage cans (UBCs) and other forms of scrap aluminum. It wouldn't include partially processed metal such as ingot cast from scrap metal.
Resource Recycling analyzed export data from the U.S. Census Bureau. The review shows the U.S. sent China nearly 820,000 metric tons of scrap aluminum valued at $1.17 billion last year. That sum amounted to 54 percent of all U.S. scrap aluminum exports last year. Below is the breakdown of scrap aluminum exports to China over the past five years. The numbers show UBCs make up just a small portion of the total tonnages of recovered aluminum shipped to Chinese ports.
Aluminum scrap (excluding UBCs):
2017: 819,051 metric tons (55 percent of exports)
2016: 689,093 metric tons (54 percent of exports)
2015: 838,876 metric tons (59 percent of exports)
2014: 1,061,126 metric tons (65 percent of exports)
2013: 1,268,538 metric tons (71 percent of exports)
UBCs:
2017: 903 metric tons (3 percent of exports)
2016: 1,266 metric tons (3 percent of exports)
2015: 4,491 metric tons (7 percent of exports)
2014: 284 metric tons (1 percent of exports)
2013: 825 metric tons (3 percent of exports)
The Institute of Scrap Recycling Industries (ISRI) released a statement noting the importance of scrap aluminum to the U.S. trade balance. "The Chinese Government's announcement will impact this significant U.S. scrap export, spurring concern that exports of additional scrap commodities could be impacted in future announcements," ISRI stated.
Photo credit: Huguette Roe/Shutterstock
More stories about exports