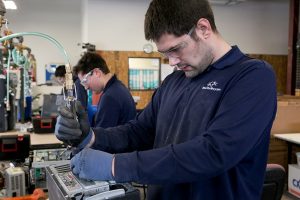 A Colorado-based nonprofit electronics recycling organization is working to spread its operational model around the country, and it recently received a grant to help.
Blue Star Recyclers received a $50,000 grant from Mitsubishi Electric America Foundation to support the recycling organization's national expansion plans. The grant foundation is funded by its Mitsubishi parent companies with the goal of supporting programs that help young people with disabilities.
Blue Star was founded in 2009 with the mission of employing people with disabilities to dismantle end-of-life electronics.
"It's a population that has about 91 percent unemployment, yet they're just phenomenal workers," said Bill Morris, co-founder and CEO of the organization.
Blue Star launched with a facility in Colorado Springs and now employs 42 workers and operates two additional locations in Boulder and Denver. Eighty percent of the collected material comes from large commercial or government generators, and 20 percent comes from the general public. The organization has grown from handling 200,000 pounds of electronics its first year, to 3 million pounds last year.
Morris describes the organization as a first-stage processor. Blue Star's workers sort and dismantle computers down to their components, which are sent to a certified downstream processor. Workers stack and wrap display devices, which are shipped to URT. Other e-scrap materials are sent to Dynamic Recycling or Kuusakoski for further processing, Morris said.
Grant aids expansion
The expansion project will come about in a few different ways. In some cases, the organization might open another Blue Star Recyclers facility in a new city. In other communities, it will act as a consultant to an existing recycling organization that wants to adopt the Blue Star model of employing people with disabilities.
Morris said the organization wants to avoid diluting any existing e-scrap recycling efforts in a community. It is conducting feasibility studies with cities to determine areas where the model might be a good fit. Blue Star has looked at Austin, Texas; Omaha, Neb.; and Salt Lake City; and it will be talking with representatives from Richmond, Va. in the near future, to name a few.
Mitsubishi has also identified a handful of cities it is interested in bringing Blue Star's concept to, including Atlanta, Seattle, Pittsburgh and more.
"This coming year, we'll be going to each one of those communities to see if the model is a good fit for the market," Morris said.
Digital equity angle
In recent years the organization has entered the asset management, recovery and reuse sector, primarily as a way of engaging in more vocational training, Morris said.
"We had a number of employees that have aptitudes that go beyond the disassembly and processing of material. They really are capable of doing some diagnostic, rebuilding and refurbishment work," Morris said.
Blue Star, which maintains e-Stewards certification at its three facilities, is implementing another social impact initiative. It is a founding sponsor of the e-Stewards Digital Equity program, which was announced this year. Under this program model, recycling operations refurbish devices and sell them for a relatively low price to municipalities, which will use them to help bridge the digital divide.
With its plans to expand its operational model around the country, Blue Star also plans to bring the digital equity concept along as well.
"We'll probably go from more of a passive approach in refurbishing what we already bring in, to down the road a more active approach of asking businesses for their higher-grade material," Morris explained.
More stories about processors