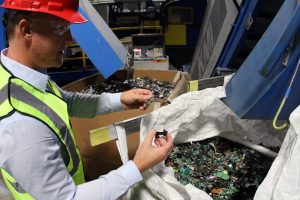 Changes in the electronics recycling stream persuaded URT Solutions to expand the capabilities of its Oregon plant, allowing the facility to process various other device types.
The processor responded to the decreasing CRT makeup and growth in other devices by installing a shredder at its Clackamas, Ore. plant. The shredding and separation system will allow the company to process low- and mid-grade material, said Jeff Gloyd, vice president of sales and marketing for URT.
"We didn't have a cost-effective means for taking apart, for instance, printers, or DVD players or VCRs," Gloyd said. "That's what we'd call mid-grade, steel-case material, perfect for a shredder operation like we now have."
There's no value in manually disassembling those devices for commodities recovery, Gloyd said, meaning before the new installation, those items were either sent to third-party vendors or shipped to the company's Wisconsin facility. Sometimes that came at a net cost, he added, with transportation sometimes adding up to 8 cents per pound.
"This is an immediate cost savings," he told E-Scrap News during a Nov. 7 open house and tour of the facility.
The SSI Q-140 shredder and sortation enhancements, which involved an overall company investment of more than $1 million, can process 10,000 pounds per hour, Gloyd said. The Oregon facility has a capacity of between 40 million and 50 million pounds annually. URT also operates two processing facilities in Wisconsin, one in Texas and one in New Hampshire.
Shifting composition
URT is known for its CRT processing. The company disassembles the devices to remove various components for commodity recovery and sends the glass through a proprietary system that separates it into funnel and panel glass streams. The non-leaded panel glass goes into any number of standard glass end markets. Leaded glass is shipped to Spanish company Camacho Recycling, which uses it in ceramic tiles.
CRT processing is "how we've grown our business," Gloyd said, noting that URT has steered clear of the CRT pitfalls some companies have faced. "At the right price, as long as you're processing and doing what you're supposed to with the glass and everything, companies can survive."
But even companies with successful CRT processing models are subject to the changing electronics stream. Gloyd estimated most companies managing TVs in the e-scrap business would report handling decreasing weights in recent years. URT isn't handling fewer devices overall, just lighter and smaller products.
That's due not only to lightweighting, but to a declining CRT pool in more mature state electronics recycling programs, such as Oregon's. Of the materials URT manages, Gloyd estimated 50 to 60 percent of the weight is currently made up of CRT-containing devices.
"The new major stream that is really starting to hit our docks is flat-screen monitors and flat-screen TVs," he said. Flat-panel displays (FPDs) began climbing in popularity about seven years ago, and the prices have dropped substantially.
Scenes from a Nov. 7 tour of URT's Clackamas, Ore. facility, which recently installed a shredder.
Photos by Jared Paben, Resource Recycling, Inc.
FPDs arriving at URT's Oregon facility will continue to be routed to Wisconsin for processing for the time being. But the shredder is a step in the direction of the company's future model for device processing.
"Moving forward, the solution is going to be, does it have a battery? Remove the battery, and then shred it, and then have top-of-the-line finding systems to separate the plastics from the metals from the precious metals," Gloyd explained.
Asset recovery shifts
URT has recovered devices for reuse since the company launched and currently does so at all its processing plants. In another growing industry trend, the company has seen a sharp uptick in its asset recovery business.
"Company-wide, we doubled the revenue and customer base in our asset division," Gloyd said. "In 2018 we're actually forecasting the budget to basically double it again."
But Gloyd described how the surge in asset recovery may flood the market with companies focused solely on that sector. That, in turn, could erode pricing for reuse and refurbishment operations.
For URT's part, the asset recovery operation is one of many services the company provides, and it plans to move forward with that same mentality. A session at the 2017 E-Scrap Conference recently touched on this model as a potential new norm in the industry.
"Yes, focused on assets," Gloyd said. "Yes, focused on business waste, material refurbishing and resale for big companies and little companies alike. But we'll also take the stuff in the closet that's at end of life, we'll take the old CRTs that are sitting in your attic."
Looking ahead, Gloyd pointed to battery management as another sector that could be added to the company's umbrella of services, because batteries of all types continue to be incorporated into a wider array of devices.
More stories about processors