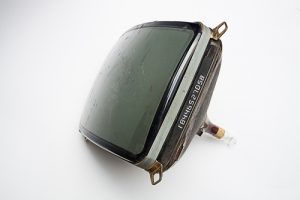 There was some level of OEM influence in an e-scrap company's decision to send tens of millions of pounds of CRT glass to the ill-fated Closed Loop Refining and Recovery, statements from Kuusakoski and Sony show.
Closed Loop was a downstream outlet for CRT glass that closed last year with sizable tonnages of CRT material in warehouses in Ohio and Arizona. It had stated plans for a smelting furnace technology, but the full operation never materialized.
A real estate firm this month filed a $14 million lawsuit against Closed Loop, Kuusakoski and UNICOR, also known as Federal Prison Industries. In response to the suit, Kuusakoski sent a statement to E-Scrap News that noted the Columbus, Ohio headquarters of Closed Loop was audited by original equipment manufacturers (OEMs), certified to the R2 standard and approved by the Ohio EPA.
Kuusakoski is a large Finland-based recycling company that in recent years has expanded into the CRT and electronics recycling business in the U.S.
In regards to using Closed Loop as a major downstream partner, the firm noted the following in a Sept. 8 statement: "The shipment of material for recycling to a certified, state approved, and OEM directed facility is not the basis for a legitimate lawsuit."
Closed Loop shuttered last year and abandoned what is believed to be the country's largest stockpile of CRT glass in Ohio and Arizona. Two Ohio warehouses, which currently house 113 million pounds of CRT material and another 15 million pounds of e-scrap, are the subject of the recent lawsuit, filed by the landlord.
Kuusakoski and its entities, including processor Vintage Tech, are accused in the suit of having "aided and abetted the scheme." According to the lawsuit, Kuusakoski and its entities sent 48.6 million pounds of CRT material to Closed Loop between 2012 and 2016.
OEM involvement remains unclear
Responding to written questions from E-Scrap News, Kuusakoski said it will "vigorously defend itself in the litigation."
"All Kuusakoski-related entity transactions were made in furtherance of recycling CRTs," Rich Hipp, Kuusakoski's CEO, told E-Scrap News. He also noted attorneys for the plaintiffs have begun "sending demand letters to other parties threatening to bring them into the litigation."
Hipp added that "Kuusakoski will not comment at this time on the specific contractual terms with any of its individual partners and customers. However, it is not uncommon for parties to direct that their CRTs be sent for recycling to certified facilities."
State records from Illinois and Pennsylvania indicate Kuusakoski and Vintage Tech worked with major OEM Sony during Closed Loop's tenure in Ohio.
In Illinois, Vintage Tech was Sony's recycling partner from 2013 to 2016. In Pennsylvania, meanwhile, both Kuusakoski and Vintage Tech served as Sony's vendor in 2014-15. Neither state program tracks downstream data on CRT flows.
Doug Smith, Sony's director of corporate environment, safety and health, declined to comment on whether Sony "directed" any of its partners, including Kuusakoski and Vintage Tech, to use Closed Loop. However, he said the company "preferred" its vendors to work with Closed Loop, which was R2-certified until 2016, whenever possible.
"We preferred Closed Loop," Smith said. "Other than a smelter, they were only the ones that demonstrated the technical ability to remove lead from the glass."
According to Smith, an early prototype of the furnace Closed Loop had hoped to scale up was proof the company could extract lead from CRT glass. "They had technology that worked, they had good knowledge of the business [and] good knowledge of the world of electronic waste," he said.
Asked if Sony ever grew concerned about the company's inability to build its furnace or its regulatory issues in Ohio, Smith said, "We are absolutely not in charge of a financial balance sheet for any of these recyclers. … We never saw any of those details.
"People think we're in bed with these recyclers – we're not," he added. "It's a customer-vendor relationship and they provide a service and we pay a fee for it."
Responding to a question about whether Sony is concerned it will be brought into the lawsuit, Smith said Sony didn't ship any material to Closed Loop.
"We're not the owner of this waste anymore," he said.
More stories about courts/lawsuits