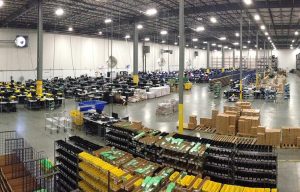 A company that manages mobile phone take-back programs has invested more than $1 million in a new processing site and plans to hire hundreds of workers in the coming months.
Hyla Mobile has opened a 100,000-square-foot used cell phone processing facility in La Vergne, Tenn., just outside of Nashville.
The Farmers Branch, Texas-headquartered company manages phone trade-in programs for large retailers such as Best Buy and carriers such as AT&T, Sprint and Verizon. The technology-focused company provides front-end software for the trade-in programs. On the back-end, it receives devices, tests and wipes data from them and resells working and marketable mobile devices. It repairs or sends downstream for recycling a very small percentage that aren't working or resellable.
"In the North American market, these devices are coming back in very good shape, so there's no reason we can't get a very high yield on them," Biju Nair, Hyla's president and CEO, told E-Scrap News.
Founded in 2009, company says it has collected more than 43 million devices and diverted more than 9,500 tons from landfill.
Ramping up operations
Nair said the La Vergne facility is now fully operational and received its R2 certification this week (Hyla recently withdrew its R2 certification for its Farmers Branch headquarters, where no device processing occurs, he said).
The Tennessee location will receive trade-in devices and prepare them for resale. About 95 percent of devices coming in the door are saleable, roughly 4 percent are repaired first (quick and simple repairs are done in house, and complex ones are sent to specialized partners) and about 1 percent are sent downstream for commodities recovery, Nair said.
The majority are sold to the Far East, with a growing percentage being purchased by Middle Eastern buyers, he said.
The Tennessee Department of Economic and Community Development issued a press release about the La Vergne facility in late June, highlighting the creation of jobs in the area. A formal ribbon-cutting is scheduled for late August.
Nair told E-Scrap News that by the end of the year the company will have hired 400 people in Tennessee. The iPhone 8 will be released this fall and is expected to drive increased trade-ins of old phones. Hyla has been steadily hiring so it can manage the volumes.
"I think we're up to 140 people," he said.
For its processing, Hyla previously contracted with a third-party company to provide a building in Nashville and hire a workforce. It was a good partnership, Nair said, but there was an inherent conflict of interest between the contractor, which was providing the headcount for the facility, and Hyla, which has worked to introduce automated processes to reduce headcounts, he said.
"It was kind of getting in the way of how quickly we wanted to move in some areas," Nair said. "So we decided it was probably best for us to be able to control our own destiny."
Technology to tackle technology
At the facility, incoming devices are received, photographed and scanned into the company's inventory management system. To improve automation in this area, Hyla is experimenting with video-based receiving, Nair said, where phones would be dumped onto a conveyor belt and a camera and computer would automatically log them into the inventory system.
Next, phones are plugged into "Hyla Pods," which run tests on 32 devices at a time to ensure they're in good working order. To check for broken touchscreens, however, the software asks an operator to manually touch squares. Nair said the company is exploring robotics to automate screen testing.
After their data is wiped, saleable phones are graded and logged into sales inventory software. Hyla then utilizes a data analytics system to examine 500,000 data points from around the world each day, including trade-in values and typical selling prices for every make and model, Nair said.
Hyla is also exploring software, which could potentially be licensed to other companies, to automatically route used devices into repair or recycling channels, Nair said. Conventional wisdom holds that a screen is worth fixing because it allows a company to fetch a higher price than if it were shredded and sold into commodities markets.
Hyla has developed a machine-learning system that runs an analysis looking at the time to repair, replacement screen inventory availability and shipping times, depreciation over the time it takes to conduct repairs, pricing for a phone with a broken screen versus a refurbished one, and more. Currently in beta testing, that system learns and improves its decision making over time, Nair said.
Nair discussed other innovations in an opinion piece published in E-Scrap News in May.
More stories about mobile-devices