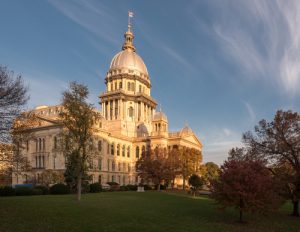 Fearing a veto from the governor, Illinois stakeholders are attempting to iron out last-minute changes to legislation that would reshape the state's e-scrap law by requiring manufacturers to fund recycling of all covered material collected through the program.
Following the successful passage of Senate Bill 1417 by both the state House and Senate late last month, lawmakers in Illinois have held back on sending the legislation to Gov. Bruce Rauner and have instead worked on a separate bill, HB 1955, to add several tweaks to the legislative overhaul.
The changes, according to the Illinois Manufacturers Association (IMA), are aimed at appeasing concerns from the Illinois EPA that likely would have caused Gov. Rauner, a Republican, to veto the original legislation. The Consumer Technology Association (CTA) has also raised concerns about the bill.
Neither the Illinois EPA nor CTA responded to requests for comment.
The hope of IMA and other bill supporters is to pass HB 1955 this week during a special legislative session and package it with SB 1417 for the governor's consideration. The new bill would make a number of changes to SB 1417, including giving the Illinois EPA more enforcement power under the program and streamlining some reporting requirements for manufacturers.
Jerry Peck, IMA's director of government affairs, said he's hopeful that lawmakers will pass HB 1955 this week, but he added that it will be "a pretty heavy lift."
"The IMA is in full support of the legislation, we want to get it to the governor, but it's really up to the politics of the day," Peck said.
A number of options remain
Peck said if HB 1955 does not pass this week, SB 1417 will be sent on its own to Gov. Rauner.
Bills passed in Illinois must be sent to the governor within 30 days, meaning SB 1417, which was passed May 31, would need to make it to Gov. Rauner by the end of this week.
SB 1417 would dramatically restructure the Illinois e-scrap program by requiring manufacturers to fund the recycling of all covered electronics collected through the program. The current program establishes annual weight-based recycling targets for manufacturers, which allow them to discontinue funding the program once goals are met.
Illinois counties and municipalities have encountered numerous struggles in recent years as they took in material after manufacturers had reached their weight quotas, and some local programs have ceased operation. In 2015, state lawmakers alleviated some pressures in the short term by passing legislation that boosted collection targets.
While sending SB 1417 to Rauner on its own could raise the possibility of a veto, Peck says the governor could also wait to see if HB 1955 is passed and sent to him later on this this summer during a second legislative session.
It's also possible that a veto by Rauner of SB 1417 could be successfully challenged, according to Adam Jaquet, the chairman of the legislative committee of the Illinois Recycling Association (IRA), a group that has supported the overhaul.
"With the most recent amendment, the expectation is it will ensure a signature from Gov. Rauner," Jaquet said. "However, the bill passed through both chambers of the General Assembly with majorities large enough to override a veto, if it did come."
More stories about EPR/stewardship