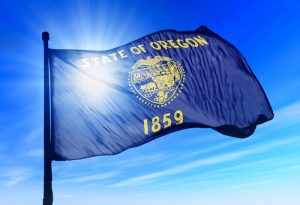 Several years of lagging recovered material totals have led leaders of Oregon's e-scrap program to slash weight targets for manufacturers beginning next year.
The state's nine-year-old electronics extended producer responsibility program, titled Oregon E-Cycles, sets a weight-based obligation for manufacturers to collect devices each year. The obligation figure has generally risen each year. But product lightweighting for display devices has begun to affect the program, as it has in other states.
Manufacturers for three years in a row have collected fewer pounds of electronics than the state requires them to. In an acknowledgement of the changing display product stream (in which heavier CRTs have been replaced by flat-panel devices), the state has announced that next year it will require OEMs to collect 21.77 million pounds, or 77 percent of the weight required of them this year.
Decline over time
In Oregon, 2011 was the last year actual collections met the target figure, but in 2012 the state program began allowing OEMs to use "credits" earned in previous years to satisfy a portion of their collection requirements. This meant manufacturers continued to meet their targets on paper for a few more years.
But by 2014, the actual weight collected plus credits from previous years was not meeting the state's target collection figure. That continued in 2015, when OEMs were on the hook to collect 30.48 million pounds of covered devices, but actual collections totaled 30.05 million pounds.
DEQ officials this year proposed a change. The initial proposal would have set the 2018 figure at the weight of actual collections in 2016, about 26.2 million pounds. But several industry stakeholders commented on the plan, pointing to the changing makeup of the electronics stream as a major factor in the collection volume drop. They suggested the weights will continue to decrease each year.
Walter Alcorn of the Consumer Technology Association (CTA) wrote that "the decrease in total pounds collected under the program in 2016 and the inability of programs to meet the Collection Determination starting in 2015 is not due to lack of collection opportunities or an uneducated population, but is rather a reflection of the program's success in getting old electronics into the recycling stream and incoming material that is lighter in weight."
Reverse Logistics Group Americas, which works with OEMs to meet regulatory requirements, also weighed in.
"Based on the trends from year to year and our experiences, we believe the availability of covered devices has decreased and the trend towards [lightweighting] of products continues to decrease the total available covered electronic device weight in Oregon," the company wrote.
Compromise reached
CTA and others suggested a target even lower than the 2016 figure. They used a formula to estimate 2017 collections and reduced that figure by 10 percent, based on historical trends, to come up with a 2018 target of 20.55 million pounds, which they suggested rounding up to 21 million pounds.
Ultimately, DEQ weighed the comments received against the past years' collection figures as well as the state's projected population growth, and came up with a compromise of 21.77 million pounds for the 2018 goal.
The change means manufacturers are more likely to meet their 2018 collection obligation, but it doesn't settle the wider issue of weight-based formulas becoming incongruous with the electronics stream. Oregon's EPR program signaled in the recent determination it will work to tackle that challenge in the coming years.
More stories about EPR/stewardship