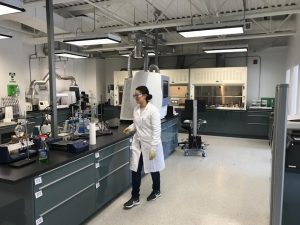 Canada-based EnviroLeach is planning to open a processing facility that will use a non-toxic water-based formula to recover precious metals.
E-Scrap News first reported on the technology last summer, when Mineworx filed for a patent on the formula. Publicly traded EnviroLeach has since been formed as a separate company to use the formula to recover valuable metals from printed circuit boards (PCBs).
Recent lab testing has shown average gold recovery of more than 80 percent under optimal conditions.
EnviroLeach CEO Duane Nelson, who has a mining background,  said the company anticipates processing e-scrap of a lower grade than many processors handle. A mining operation might have an average recoverable quantity of around 1.2 grams per ton, he said, while low-grade PCBs can run exponentially higher than that, Nelson said.
"So even the small 30-grams-per-ton material is of high interest to us," he said.
EnviroLeach has signed one contract with a global company to process e-scrap materials, Nelson said, although the details have not yet been released.
According to the company's first-quarter 2017 financial filing, its sole source of funding has been the issuance of equity securities for cash. As of the end of the quarter, it had a cash balance of 2.7 million Canadian dollars (about $2 million) to settle current liabilities of nearly 1.1 million Canadian dollars (nearly $800,000).
Safe chemicals
Development of the hydrometallurgical formula into a processing technology began about a year-and-a-half ago, when Mineworx learned there was a potential to replace cyanide with a non-toxic solution. The company visited labs around North America to explore the concept, and they came back with positive receptions.
Since then, the company has been working to further develop the formula, acquire the intellectual property rights, protect it with a patent and run thousands of tests, Nelson said. In March, the company finalized its acquisition of the rights to use the technology for the concentration and extraction of valuable metals and minerals, according to company financial filings. The total purchase price was 10.1 million Canadian dollars (nearly $7.5 million USD).
Creating the solution begins with tap water, which is mixed with five different powders, all of which are approved by the U.S. Food and Drug Administration (FDA) as nutritional supplements, medicines and food additives, according to the company. The combination forms a clear fluid chemical compound. Then, the compound goes through an electrochemical cell containing what Nelson described as proprietary anodes and cathodes.
At that point, Nelson said, "the leach kinetics of this fluid are superior to that of cyanide and very close to that of aqua regia."
Shredded and ground PCBs can then be introduced to the formula, which will dissolve them into metals-bearing solutions. The solution goes through a filter and metals are extracted using a proprietary process.
Once the metals are out of the solution, almost all the fluid can be reused for subsequent metals recovery.
"All the others – acids, cyanide – their chemical compounds are actually consumed during … the dissolving process. You can't reuse them," Nelson said. "Ours is the first truly recyclable or sustainable green solution for the extraction of strategic metals from e-waste."
The process will extract the high-value metals from e-scrap, and the remaining PCB material can be sent for smelting, Nelson said.
Test results
After conducting as many as 8,000 tests on electronics, mining concentrates, ores and tailings, the company recently provided an update on the results and announced it would be expanding the pilot into a full commercial operation.
Testing by EnviroLeach and a third-party facility, Met-Solve Laboratories, involved studying 12 to 25 kilogram solids processed in 100 liters of solution, as well as up to 200 kilogram solids in 800 liters. The tests found the process achieves optimal recovery in less than two hours, according to EnviroLeach.
Eight gold recovery tests showed substantial recovery from 30 minutes in the solution, with about a third more metal recovered after two hours. The tests achieved an average metals recovery of 82 percent after two hours in the solution.
The tests used more than 4.4 short tons of PCBs, shredded and ground using a unique dry grinding mill from Mineworx. The equipment reduced the materials to 0.2-millimeter particles at a rate of 1.5 short tons per hour.
EnviroLeach is currently constructing its processing plant in the Vancouver, British Columbia area, and it is slated for start-up in October. The plant, which can handle 5.5 million pounds of electronics per year  will be portable, and the company plans to move it to an as-yet undisclosed location in the U.S., Nelson said. The design of the equipment can be customized to meet demand.
"It's completely scalable," Nelson said. "We'll be able to scale these plants up to accommodate whatever feedstock is available."
More stories about processors