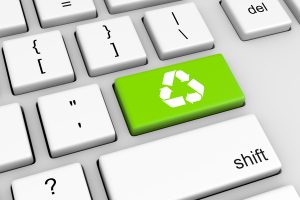 A U.S. electronics disassembly and processing outlet is expanding with a new California flagship facility, spurred by anticipated growth in the domestic electronics manufacturing industry.
Re-Teck, an IT asset disposition (ITAD) company, plans to open a new 50,000-square-foot facility in the San Francisco Bay Area in August. Its U.S. operations are currently made up of three Dallas locations totaling 75,000 square feet.
The U.S. has been "a major focus of our corporate development in the recent couple years and going down the road," Linda Li, Re-Teck's chief strategy officer, said in an interview with E-Scrap News. "It's because we do foresee a lot of high-tech manufacturing potentially coming back to North America."
The California project is driven by the predicted increase in post-industrial supply of recyclables, although it will handle post-consumer materials as well.
Re-Teck handles all steps in the end-of-life management process and works in both the post-industrial and post-consumer spheres. According to a press release, its clients include Microsoft, NEC, Amazon, Motorola and others. Its services include front-end take-back platforms, such as is used by Amazon, as well as the transport of material from a distribution or repair center to a Re-Teck processing facility, where devices undergo screening, testing, authentication, data destruction and grading of parts.
Re-Teck's Dallas-area facilities are R2-certified, and Li said the company will work to certify the upcoming facility in Milpitas, Calif. as well.
Re-Teck is a subsidiary of Li Tong Group (LTG), which performs the same services and has 21 wholly owned facilities around the world.
Enabling reuse a priority
The company prioritizes disassembly and parts harvesting, but will send components that can't be reused to a shredder for materials recovery.
E-plastics receive special attention from Re-Teck. Because it's difficult for a plastic reclaimer handling curbside materials to handle e-plastics, Re-Teck facilitates the return of those materials back to the virgin material supplier.
"This is very unique in the high-tech space," Li said.
Materials fit for reuse go into a variety of downstream outlets, depending on the condition of the device and the volume a buyer needs. Re-Teck often works with smaller designers and manufacturers without the budget to buy large shipments of new parts, Li said. She gave the example of a toy drone manufacturer needing to buy screens in bulk while trying to keep costs down. Li also cited another downstream example of harvested screens being sold and reused as the displays in taxi cabs.
Driven by OEM commitments
Changing attitudes about end-of-life management contributed strongly to Re-Teck's expansion decision, particularly companies becoming more involved with how their products are handled.
Li described recent announcements by major electronics manufacturers looking to bolster their sustainable activities as evidence of a change. Although Li didn't mention the company specifically, Apple recently made such an announcement when the company said it will strive to use entirely recycled metals in its manufacturing in the future.
"Compliance and sustainability, senior directors in these areas from some of these large corporations are making announcements that they're going to close-loop, reuse all their materials," Li said. "They're going to build the next generation supply chain where reuse and recovery is maximized.
"Once one company makes that kind of move, and everyone else considers their peers, they want to do the same thing. Nobody wants to be a lagger in this space because the public is just, the awareness is really there. We do really believe that the U.S. will be a high-demand and high growth market for us."
More stories about processors