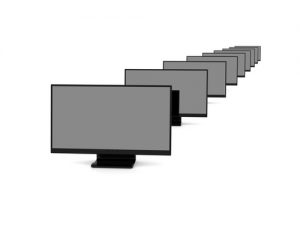 Oregon regulators have fined Total Reclaim more than $160,000 for allegedly violating hazardous waste laws, but the e-scrap processor denies the allegations and has appealed the penalty.
The Oregon Department of Environmental Quality (DEQ) on April 3 issued a press release announcing the $164,400 civil penalty. In addition, DEQ revealed that Total Reclaim was cut off from receiving e-scrap through the state's extended producer responsibility program last year.
The actions stem from an investigation by Seattle-based watchdog group Basel Action Network (BAN), which used GPS tracking devices to follow the downstream destinations of electronics. It released the results of the effort, which it calls the e-Trash Transparency Project, in May 2016. Named in the report, Total Reclaim then acknowledged it had exported flat-panel displays to undocumented recycling facilities in Hong Kong. The company owner recently said that export activity is no longer occurring.
In response, Washington Department of Ecology issued a $444,000 fine against Total Reclaim, which is also appealing that enforcement action.
Oregon fines
DEQ said the company exported mercury- and lead-containing flat-screen devices generated at its Portland, Ore. location from 2009 to 2015. DEQ claims the flat-screens were considered "residue" or "solid waste" because they were shipped to China for disposal.
The penalty documents, dated March 7, allege Total Reclaim violated Oregon law by failing to determine that the "residue" was considered hazardous waste, based on its lead content. Additionally, DEQ alleged Total Reclaim should have transported the material with a uniform hazardous waste manifest, instead of a bill of lading. Lastly, the state accused the company of failing to submit required annual hazardous waste permits and fees.
DEQ is also requiring the company to submit annual hazardous waste generator reports for 2013 to 2015 and to pay unpaid generator fees.
On March 27, Richard Allan, an attorney for Total Reclaim, appealed the penalty and requested a hearing. The appeal document claims Total Reclaim transported flat-screens from its Portland location to its Seattle facility, where some were ultimately sold to a company called M-Stream.
"On information and belief, after M-Stream bought the used flat-screen devices from Total Reclaim, it sold and arranged for shipping them from Seattle to a facility or facilities in Hong Kong of its choosing," Allan wrote.
In the appeal, Total Reclaim claims the flat-screens were considered "used products," not "waste," under the law. As such, it wasn't under any obligation to characterize them or meet hazardous waste manifesting requirements before shipping them to Seattle.
In a separate letter, Allan requested an informal discussion with DEQ to reach an agreement before the hearing.
"As we indicated in our October 24, 2016 and November 30, 2016 correspondence, we believe that DEQ's allegations lack merit but also that DEQ and Total Reclaim can better put their resources toward a settlement of the claims as opposed to litigating them," he wrote.
Craig Lorch, the owner of Total Reclaim, told E-Scrap News the company is "working with the agency to resolve the issue quickly, so that we can return our focus to recycling materials collected from Oregon residents and businesses."
Program pounds
Total Reclaim was a significant player receiving pounds under Oregon's manufacturer-funded electronics recycling program, called Oregon E-Cycles. After the BAN report came out, it was cut out of receiving pounds, according to DEQ.
"In mid-2016, DEQ learned that Total Reclaim may have illegally disposed of electronic waste overseas. Oregon E-Cycles recycling programs promptly stopped their use of Total Reclaim after these actions were discovered," according to the press release.
Data obtained by E-Scrap News from DEQ via a public records request shows Total Reclaim managed 2.2 million pounds in 2016, or 8.3 percent of electronics flowing through Oregon E-Cycles. That was down from 5.5 million pounds in 2015, or 18.7 percent of the electronics flowing through the program that year. The year-over-year decrease of 3.4 million pounds represented a 61 percent drop for Total Reclaim.
As is the case with some other states with mature e-scrap programs, the total pounds collected in Oregon continues to drop, a result of the clearing out of heavier CRT devices. In 2016, a total of 25.9 million pounds were processed through Oregon E-Cycles, a 12 percent drop from the year before.
In Washington, the extended producer responsibility program for electronics, the similarly named E-Cycle Washington, dramatically reduced pounds allocated to Total Reclaim. In 2016, the weight it received through E-Cycle Washington dropped by 8.8 million pounds, a 40 percent decrease over the year before, although it remained the single largest processor in the state. Overall, E-Cycle Washington in 2016 collected 14 percent less weight than the year before.
Lorch said the volume changes in Oregon occurred nearly a year ago, and Total Reclaim made adjustments in staffing and operations some time ago to accommodate them.
"Of course we would like to work with the programs again and see more material, but our focus is on continuing to work with our current customers and rebuilding our reputation," he said.