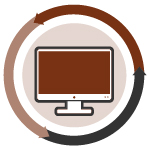 A former U.S. e-scrap executive pleads not guilty to federal charges related to business practices, and an infamous scrap site in Ghana grabs more headlines.
Safer processing: The German government will help build an e-scrap processing facility in the Agbogbloshie area of Accra, Ghana. According to the Deutsche Welle newspaper, the government unveiled a $21.5 million plan for a recycling facility where materials can be processed and sold safely, providing an alternative to crude processing procedures.
Flat screen investigation: In other Agbogbloshie news, the Australian Broadcasting Corporation has a story about a flat screen monitor from a major Australian bank that was sent downstream for proper recycling in Australia – and then ended up in the hands of a 13-year-old boy at the Ghanaian site.
Not guilty plea: Kenny Gravitt, who was indicted by a federal grand jury in connection with his company's handling and disposal of CRT glass, has pleaded not guilty to all charges. An estimated five-day jury trial has been scheduled to begin May 1, court documents show. Gravitt, who led Kentucky-based GES, was charged with one count of conspiracy and seven counts of environmental law crimes.
Leaching technology: A company that developed a non-toxic leaching formula for extracting precious metals from e-scrap has received approval to make changes to its corporate structure. Mining company Iberian Minerals received approval from the Canadian government to transfer its leaching technology rights to a related company called EnviroLeach Technologies, which will use the method on both mined ore and electronics scrap.
Future of mineral scarcity: Minerals that are crucial to manufacturing electronics are going to be in short supply in the future, and more mining exploration and electronics recycling aren't expected to yield enough material to meet growing demand. That's according to an international team of researchers, led by a professor at the University of Delaware.