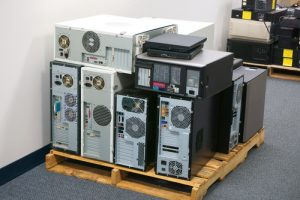 A Minnesota company is distancing itself from the wider metals recycling market to focus squarely on end-of-life electronics processing.
Integrated Recycling Technologies (IRT) this week announced it is moving into a 42,000-square-foot facility in the city of Waite Park, Minn. The company has plans to add another 40,000 square feet next year. The firm had been operating out of a 10-acre yard in Monticello, Minn., according to its website.
IRT recently sold its non-ferrous, ferrous and catalyst divisions to Crow Wing Recycling of Brainerd, Minn.
"My true passion has always been processing and sampling circuit boards," IRT CEO Steve Budd said in a press release. "I am looking forward to growing the business and getting serious about e-scrap."
IRT, which was founded in 1997 and is certified to the R2 standard, had in recent years worked to compile a database of metal yields from circuit boards using a lab on-site. Budd noted that initiative helped the company work with business partners so that both sides knew the value of different assets.
The company will now be looking to extend such knowledge deeper into the IT asset disposition (ITAD) market, helping corporate clients make smart end-of-life decisions. In its release, the company noted it is "rebranding IRT out of the 'junk yard' mentality and into the 'white glove' corporate e-scrap world."
The embrace of ITAD has been a growing trend in the electronics recycling field in recent years as operators have tried to mitigate the effects of depressed commodity prices and avoid the troubled CRT recycling market. Material garnered in the ITAD sector is generally more reuse-friendly and of higher value.
IRT also noted its strategic shift will bolster communication with clients.
"Customer service will be greatly improved now that we can focus solely on e-scrap," said David Owens, who is the company's chief operating officer and was recently named a partner at the firm.