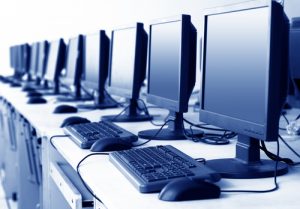 Sims Recycling Solutions has made a concerted effort to target higher-value assets in recent years. The company's sales chief says that strategy is progressing, but that its implementation has not always been simple in a complex global marketplace.
According to Sean Magann, vice president of sales and marketing at Sims, the company's scrap recycling roots have remained important even as it moved aggressively toward ITAD.
"Depending on who you talk to, ITAD can mean a lot of things," Magann said in an interview last week. "They're always OK with the first three letters — it's the D that throws everybody off. It definitely includes recycling and I think that's one of the biggest misnomers."
ITAD, which stands for IT asset disposition, is an umbrella term for a wide range of management activities, including repair and resale, data sanitization and destruction, and recycling. In general, ITAD-focused firms avoid recovery activities and specialize in extending the lives of the products they receive.
Sims, a division of publicly traded giant Sims Metal Management, made waves in the industry when in 2014 it announced the closure of its three Canadian processing sites and additional locations in the U.K. The company also closed sites in Texas, New Jersey and Maryland.
At present, the company has seven U.S. facilities, with locations in Arizona, California, Florida, Hawaii, Illinois and Tennessee. All of those sites are now considered ITAD processing centers.
The 2014 consolidation was framed by Sims as a necessary adjustment to move forward in a fast-evolving electronics recovery industry. Magann said the moves were driven in large part by downward pressure on commodity prices and "more and more leakage" of end-of-life products abroad.
To adapt, Sims leadership aimed to avoid the municipal market, which was increasingly becoming defined by tight contracts and low-value, CRT-heavy streams.
"You can't trade volume for profitability, and I think a lot of companies will make that mistake, especially in the scrap business," Magann said. "Being from the scrap industry, I think maybe we fell victim to that. … And we didn't want to make that trade-off anymore. We said, 'Let's be more judicious about what we buy.'"
Revenue split between approaches
How has that effort worked out? Magann noted that even as Sims embraces its ITAD evolution, the "vast majority" of the weight of material handled by the company ends up being recycled.
That said, revenue generation for the company is evenly split between its recycling activities and its data sanitization, refurbishment and remarketing business. "We're pretty darn close to 50-50 … which is good. That's where we want to be," Magann noted.
From the 2014 fiscal year to the 2015 fiscal year, revenue for Sims Recycling Solutions grew by 4.6 percent, according to earnings reports from its parent company. However, revenues gained only slightly in FY 2016 for Sims Recycling Solutions, and net global earnings dropped sharply.
One challenge in expanding the company's work beyond the traditional scrap market is negotiating contracts that satisfy all legal and regulatory needs of Sims' global client base.
Some clients simply ask for IT to be processed down to the commodity level. And often, clients come to Sims with loads of material that run the gamut on the value spectrum.
"They're saying, 'We've got good stuff and we've got recycling stuff and we want you to help us with both," Magann said.
Still, the processor has had success explaining the upside of alternatives to recycling in order to win over prospective clients and grow the ITAD operation.
"If you can show them that a unit is worth $50 in resale and in scrap it's worth pennies, they're usually pretty on board with that," Magann said.
He also said Sims does not foresee any further facility closures in the immediate future.
"We've had to make some tough decisions, but I like where we are," the executive said. "I think we have a really nice footprint — we're well-represented on both coasts."