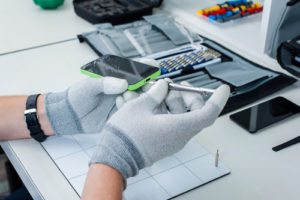 The refurbished smartphone sector is expected to grow exponentially in the next three years, and a Seattle company aims to put its data analysis at the center of that development.
Retrace tracks e-scrap, specifically used cellphones, throughout the global market to give refurbishers and other e-scrap companies better data to help them become more successful.
E-Scrap News spoke to Michael Rubel, president and founder of Retrace, about the growth of the market.
E-Scrap News: What exactly does your company do?

Michael Rubel: Retrace provides market intelligence to the cellphone industry through a proprietary business and analytics platform. We are based in Seattle, and have offices in Vietnam, the Netherlands, South Africa and China to provide world-class sales support, business tools and pricing insights so that our customers increase profitability and decrease business risk.
When did you start and why?
We started in 2014, in partnership with e-Stewards to develop an online marketplace. The goal was and has always been to create business efficiencies within the e-scrap and secondhand mobile phone market. In early 2016, we realized that our value was not the marketplace, but the data we collected each day on the movement, pricing and volume of phones being sold around the world. And so, we changed direction and focused on developing a better interface for clients to access our analytics. Today, Retrace tracks 158 sources of data out of 25 countries. This includes 187 device models from 19 OEMs.
Also, we have been working on a complex mathematical algorithm that is currently able to predict pricing two weeks out with 92.2 percent accuracy. It's not ready for prime time, but we're getting close.
How can your service help an e-scrap company maximize its profitability?
Our analytics enables a company to better understand global market pricing and thus direct their efforts toward the best markets at the best time. Our beta clients are seeing profits double from this increased understanding of the global market dynamics.
How do you develop your information?
We track 158 different sources of data around the world and we're expanding that every day. Our analytics have pricing back into 2014, so our historical perspective enables us to increasingly predict market trends and pricing.
Does Retrace help companies remain in compliance with the varying global import and export laws?
Unfortunately, we have not included that into our platform yet. However, we do have a lot of experience with the various regulatory requirements around the world and plan to include that, as well as shipping costs and taxes, into our platform by the end of 2017.
What are your thoughts on the market outlook for exports of refurbished or reused electronics from North America to the developing world?
The world seems to be waking up to the fact that buying a used phone is a great alternative to buying a new phone. The level of innovation in the cellphone industry has slowed down and each year's model seems to be about the same as the last. So consumers are increasingly opting for used devices.
There has also been a lot of discussion as of late about supporting internet connectivity for developing countries. In 2014, Mark Zuckerberg launched internet.org, in an effort to connect the entire world. The problem with this endeavor is that they're missing the last mile.
Our industry has the ability to support such ambitious projects by providing low-cost smartphones to low-income consumers. I recently read an article in the Economist that said a 10 percent increase in internet connectivity increases a country's GDP by 1 to 2 percent, not to mention the access to health care, education, banking, weather and other online resources.
India has banned imports of used devices for resale. Do you see the potential for additional countries to do the same?
I believe that such trade tariffs are short-term political moves. Some last a long time, others die out quickly. It's impossible to predict that future, but I believe the world is trending toward a more open and free economic system.