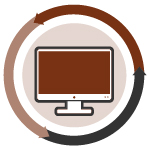 An Indiana newspaper urges lawmakers to address a lack of rural collection opportunities, and costs to recycle electronics are going up for residents in one upper Midwest municipality.
E-scrap pile up: As New Jersey Gov. Chris Christie decides whether to sign a bill updating the state's e-scrap recycling law, old TVs continue to pile up in the state. CBS Philly reports Cape May County is sitting on 10 tons of e-scrap.
Program changes urged: An op-ed in The Herald Bulletin encourages Indiana lawmakers to tighten the state's e-scrap recycling law to include more rural collections, as well as provide a clearer definition of covered products.
New collection site: Residents of several counties in Missouri now have access to an e-scrap collection and household hazardous waste facility. The Herald-Whig reports the facility in Perry, Mo. was opened with funding from the state.
Higher costs: The price to collect and recycle electronics in a suburban Minneapolis community is going up because of high downstream costs and low demand, says swnewsmedia.com. The price hike goes into effect the first of the year.
What's next: The community of West Milford, N.J. is deciding what to do with its e-scrap now that Goodwill has ended its collection and recycling program. The West Miford Messenger says the township is trying to find another processor but high costs are getting in the way.