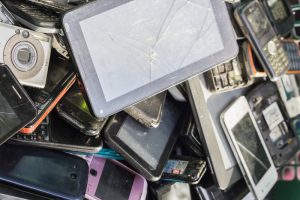 Product lightweighting is preventing manufacturers from increasing e-scrap collection volumes in Canada's most populous province.
Ontario Electronic Stewardship (OES), the province's producer responsibility group for e-scrap, collected 73,982 tons in 2015, down 5.5 percent from 2014. Per capita collections dropped to 10.6 pounds, down 8.6 percent from the year before.
"Particularly in the products that you and I use on a daily basis, the trend is clearly toward smaller and lighter-weight products, which obviously affect their results, because they're being measured by weight," said Michael Scott, CEO of regulatory body Waste Diversion Ontario (WDO). "The marketplace is … rapidly changing."
Melanie Wilde, executive director of OES, said she has seen a similar trend of product lightweighting reducing collection weights in other programs, particularly mature ones. Ontario's e-scrap program began in 2009.
"It's something that we expected. It's something that we've been watching," she said.
A problem material plateaus
CRTs still make up the majority of weight in the stream, but OES is seeing a plateauing of volume entering the stream, she said.
"We're starting to get a sense that perhaps it's leveling off," she said.
A similar trend has been seen in some U.S. state programs.
Meanwhile, OES achieved another milestone in February: collecting 400,000 metric tons of material since the program's inception, Wilde said.
In 2014, OES failed to hit e-scrap collection targets, which were originally set in 2009. Knowing the targets couldn't have accounted for recent trends in electronics, OES and WDO have since discussed how to set new targets. WDO did not establish targets for 2015 or 2016.
"I think everyone recognizes there were challenges with the old targets," Wilde said.
WDO continues to monitor the year-over-year performance of OES, which Scott described as a well-promoted program providing convenient drop-off options in close proximity to Ontario residents. The 2015 report found 96.7 percent of Ontarians live within 10 kilometers (6.2 miles) of a drop-off location, up slightly from 96.5 percent in 2014.