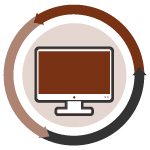 California presses felony charges over an e-scrap company's alleged violations of hazardous waste laws, and communities in New Jersey and Wisconsin reduce or eliminate collections because of costs.
Hazardous waste violations: The owner of a Southern California e-scrap firm faces felony charges for violating state hazardous waste control laws, according to the California Department of Toxic Substances Control. Five felony counts have been filed against Panda International Trading Co. and owner Da Xiong Pan for allegedly disposing of, treating and storing copper, lead, zinc, cadmium, nickel and chromium without a permit, the DTSC states.
Wisconsin program discussed: Stakeholders in Wisconsin's e-scrap program convened in Madison, Wis. earlier this month to coverprogram policies, markets, auditing and compliance and pending legislation. Click here to see materials from the meeting.
End-of-life journey: The Verge follows New York City e-scrap from the collection point to a sortation facility in New Jersey to a shredding and asset management facility in Massachusetts. The story provides an inside look at how Electronic Recyclers International (ERI) processes the city's e-scrap.
Collection cost cuts: Hillsdale, N.J. officials have reduced their collections of e-scrap, part of a cost-saving effort, according to northjersey.com. With rising costs to run the program, city officials will still accept TVs but are encouraging consumers to recycle them through county programs or through electronics retailers instead.
Scrap collections eliminated: Jefferson, Wis. has eliminated its e-scrap collections after the e-scrap firm it contracts with, Universal Recycling Tech, began charging to accept material because of the costs of recycling CRTs. The Daily Union reports the town's curbside service provider, John's Disposal, will still pick up electronics for a fee.