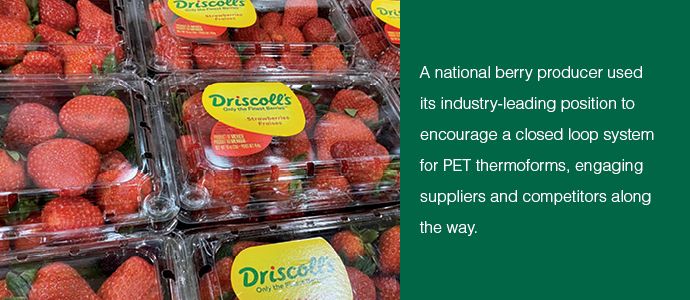 This article appeared in the January 2023 issue of Resource Recycling. Subscribe today for access to all print content.
Clamshell containers used by berry brand Driscoll's in 2021 contained an average of 9% recycled PET sourced from used thermoforms. That's a notable number when you consider that, previously, the company saw almost no thermoform material successfully recycled all the way back into new thermoform packaging.
Coming full circle on the use of post-consumer resin (PCR) didn't happen by chance. Instead, it was the result of demand pull by the brand owner, investments by plastics reclaimers and an open-mindedness on the part of MRFs.
Tackling a variety of barriers
Camille Herrera, packaging development and sustainability manager for Driscoll's, says the family-owned company has looked to leverage its role in the supply chain to push for closed-loop recycling of polyethylene terephthalate (PET) thermoforms.
The company has long used recycled PET (RPET) from bottles in its clamshells, but securing RPET from thermoforms means overcoming unique challenges.
In 2020, Watsonville, Calif.-based Driscoll's challenged its clamshell suppliers to boost their average percentage of RPET derived from thermoforms from 0% to 10% by the end of the year. They succeeded, with some reaching 25%.
"While Driscoll's is driving this, there's no way on Earth we could do this without our suppliers," Herrera said, adding that Driscoll's Americas' business buys about $200 million a year in packaging across its portfolios.
"They could have all said no. But they've all seen that it's going to be beneficial to their business in the long run and have been really dedicated."
But it would not have been possible without the willingness of other stakeholders to play ball too.
"We could not have done this without the MRFs that have been adventurous and stepped up," she said.
Still, challenges remain to continuing to grow thermoform recycling efforts, even as clamshells and tubs become increasingly common on store shelves. Food packaging isn't part of bottle deposit programs, so thermoforms must be recovered through curbside collection and other channels. But most MRFs sort them into PET bottle bales, not thermoform-only bales, or they landfill them.
Additionally, thermoforms made of lookalike polymers can complicate sorting; thermoform labels, inks and adhesives can gum up the shredding and washing/drying processes; and thermoform flakes tend to be more brittle and generate more fines. Additionally, thermoform PET does not have the intrinsic viscosity needed for bottle production.
For a long time, these realities were not understood by brand owners, Herrera acknowledged.
"I think like many brands, we thought our material was getting recycled. We didn't realize there was any problem," she said.
In 2016, Californians Against Waste (CAW) Executive Director Mark Murray pointed out that the berry industry's thermoforms, by and large, aren't getting recycled, Herrera said. That led Driscoll's and several other companies – a salad company, another berry grower, a plastics reclaimer, a MRF operator and a packaging suppliers – to establish a small coalition called the Alliance for PET Thermoform Recycling (APTR) in 2018, Herrera said. The goal was to study the barriers standing in the way of thermoform-to-thermoform recycling.
APTR found three main issues, she said: paper labels that sank with PET flakes in reclaimers' float-sink tanks, adhesives that weren't separating from the plastic and PET reclaimer equipment lines that are generally set up for bottles, not thermoforms, she said.
Driscoll's and other industry players are working on solving the issue of problematic labels.
The Association of Plastic Recyclers (APR) in recent years has provided design guidelines for washable labels and adhesives, helping to bring additional recycling-friendly label products to the market, she said. (APR owns Resource Recycling, Inc.)
Driscoll's fully switched to recycling-friendly biaxially oriented polypropylene (BOPP) pressure-sensitive labels for new packages, which means that, starting in 2025, all Driscoll's clamshells will use the new labels.
APTR also learned that MRFs tend to include PET thermoforms in bottle bales. The Plastic Recycling Corporation of California (PRCC) conducted a 2020 study that found bales from MRFs with automated sorting technologies averaged about 20% thermoforms.
Herrera and the PRCC report both noted that California's container redemption program incentivizes MRFs to include PET thermoforms in PET bottle bales. This is because MRFs can qualify to receive commingled redemption payments based on the weight of PET bottle bales they produce. Even though thermoforms are not part of the deposit program and the commingled rate factors in the presence of non-deposit material in bales, including thermoforms in the PET bales adds to their overall weight.
Herrera also hears MRF operators say they'd have to rely on less efficient manual sorting to remove clamshells from the PET stream, or they'd have to make space in their system and buy robots. But even with the investments in robots, many MRFs may not have available bunker space to store thermoforms.
A letter last year from MRF operators to California lawmakers noted that MRFs may have to store thermoforms for up to a month to accumulate enough to ship to a plastics reclaimer.
"Even for MRFs that want to do this, there are existing challenges that need to be addressed for their own infrastructure," Herrera said.
Connecting with a variety of recyclers
Armed with information gathered for the APTR, Driscoll's in 2020 asked its packaging suppliers to not just provide RPET content but to ensure a certain percentage was derived from scrap thermoforms, Herrera said. Specifically, Driscoll's asked suppliers to go from 0% thermoform content to 10% by the end of that year.
All Driscoll's suppliers hit the goal for at least one month, she said.
"They were able to do 10%, and some of them technically tested at higher percentages, at 25%," she said.
Driscoll's let the suppliers figure out how to accomplish the goal. She said Driscoll's didn't pay a higher price for RPET derived from thermoforms, allowing suppliers to use their buying power to stimulate demand for recycled thermoforms.
Driscoll's suppliers include two vertically integrated clamshell suppliers that own their own wash lines, as well as a number of packaging producers that buy recycled resin from reclaimers.
The vertically integrated suppliers are Direct Pack, Inc. (DPI) and Plaztek. DPI opened a PET thermoform plant in Mexicali, Mexico last fall. DPI already had plants operating in Sun Valley, Calif.; Rockingham, N.C.; and Guadalajara, Mexico.
The company's Mexican facilities recycle used thermoforms into new thermoforms for sale to Driscoll's, which won a 2021 award from the Sustainable Packaging Coalition (SPC) for sourcing the RPET for clamshells from used clamshells.
On the U.S. side of the border, PRCC has been instrumental in helping to educate California MRFs about the value proposition of sorting thermoforms from PET bottles, she said. A supplier of PET bottle bales, PRCC wants to boost the quality of bottle bales by removing thermoforms, she said. Some MRFs are already providing thermoform-only bales, including Recology's technologically advanced Pier 96 MRF in San Francisco. Another is the Monterey Regional Waste Management District (recently renamed ReGen Monterey), which opened an advanced MRF in 2018.
Some non-vertically integrated reclaimers are also able to supply Driscoll's packaging vendors with RPET that contains some percentage of thermoforms, Herrera said. One of those is Green Impact Plastics' plant in Ciudad Juarez, Mexico. That plant produces RPET 100% derived from thermoforms, she said.
Herrera said other suppliers are selling RPET with some level of thermoform content. One of them is Turlock, Calif.-based Peninsula Plastics Recycling, a subsidiary of Merlin Plastics that's providing an RPET blend of 70% bottles and 30% thermoforms.
Another is Perris, Calif.-based Global Plastics Recycling, which received a $1.6 million CalRecycle grant last year after taking out a $2 million low-interest loan from the state of California the year before. Global Plastics Recycling supplies an RPET blend of 80% bottles and 20% thermoforms, Herrera said.
Looking at today's larger RPET market, however, challenges include competition for material and other market factors, she said.
"There's definitely a lot more competition for PCR these days, just in general," she said.
Beverage brands have pledged ambitious use of PCR in their bottles, and some governments, including California, Washington state and New Jersey, are beginning to mandate RPET in bottles.
Still, Herrera said she's happy with the thermoform recycling results so far. In 2021, Driscoll's clamshells averaged 80% recycled content. The composition breaks down to 40% pre-consumer content (also known as production scrap), 31% PCR from bottles, 20% virgin plastic and 9% PCR from thermoforms.
"For this being a new market, this is doing amazing," she said. "It's not even two years old."
Collaboration, not market differentiation
These thermoform recycling efforts come in the context of a fast-changing policy landscape in the Golden State.
In 2021, Gov. Gavin Newsom signed Senate Bill 343, which prohibits the use of the chasing arrows symbol on packaging unless the state determines the package is recyclable. For thermoforms to meet the definition, recycling programs covering 60% of the state's population will need to access thermoforms, and the package must be sorted by MRFs into "defined streams for recycling processes," according to the bill.
More recently, Newsom in June of 2022 signed a bill ushering in what's being called the toughest extended producer responsibility (EPR) law for packaging in the country.
In addition to requiring producers to finance the recycling system, the bill mandates reductions in single-use plastics, product recyclability and the achievement of a set recycling rate for all plastics.
Against this backdrop, Driscoll's is asking suppliers to aim higher in future years. Specifically, the company wants to boost its clamshells' thermoform content to 25% by 2025, Herrera said.
She estimated California currently has over 75 MRFs, and although the number actively sorting thermoforms into discrete thermoform bales fluctuates, it tends to hover between about 10 and 15. Generally, independent MRFs have been more active in providing thermoform bales than the large waste and recycling corporations, she said.
She also said there is value to thermoform-only bales, noting that although they were trading for less than 5 cents a pound at the beginning of 2020, they've increased since then.
According to RecyclingMarkets.net, in California, PET thermoform bales have traded in recent months for about 25 cents per pound, on par with California's curbside PET bottle bales.
Because of California's deposit program, Driscoll's may be running up against the limits of available thermoform bales there. In non-deposit states, the financial proposition can look better, she said.
"There's definitely financial value in including them in some way, shape or form," she said.
Rethinking collection and sortation
The brand owner is also engaging recycling companies with alternative collection models. For example, Driscoll's has worked with Replenysh on a pilot project in Oklahoma, with another planned. Driscoll's has also been talking with Ridwell, which runs a doorstep collection service in the Pacific Northwest.
Additionally, Herrera cited a six-month pilot project now collecting thermoforms at four Sam's Club stores in El Paso, Texas. Backing that project, which is providing a cash incentive for PET thermoform drop-offs, are the environmental groups Texan by Nature and Texans for Clean Water.
Texans for Clean Water is led by Maia Corbitt, who has pushed state lawmakers to pass a deposit-like program in Texas to reduce litter. Materials collected through the pilot project will go to Green Impact for recycling, according to KTSM.com.
Technology could also unlock supply. New labels from Driscoll's incorporate Digimarc invisible barcode technology, which is also being used by packaging giant Berry Global. Optical sorters can be retrofitted with scanners to read the Digimarc barcodes, which are imperceptible to the human eye, to identify recyclables on a conveyor belt.
The barcodes could help the machines properly sort thermoforms, but they also enable some detailed cataloging capabilities for specific products.
For example, Driscoll's may someday be able to identify geographies where a lot of its berries are purchased but few of its clamshells are recycled, allowing for targeted recycling system interventions.
In the meantime, improving thermoform recycling will require collaboration among many companies. She expressed excitement at The Recycling Partnership's recent launch of the PET Recycling Coalition, which will provide funding to improve PET sorting and recovery.
Collaboration also extends to berry-growing competitors, which need to succeed in thermoform recycling too, she said. She noted that when Driscoll's began working to source thermoform RPET from Green Impact, it didn't try to insist on any exclusive sales relationship.
"While we do want to tell the story to our customers, it's not about making this the market differentiator," Herrera said.
Jared Paben is the associate editor of Resource Recycling and can be contacted at [email protected].
This article appeared in the January 2023 issue of Resource Recycling. Subscribe today for access to all print content.