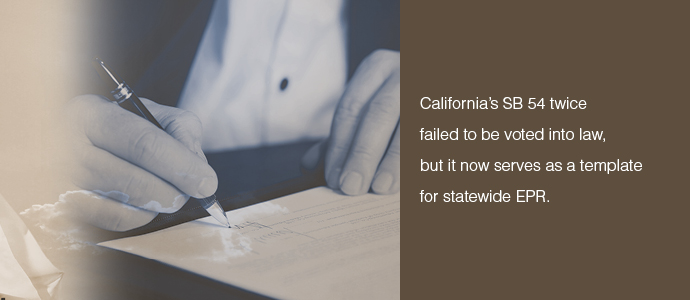 This article appeared in the November 2022 issue of Resource Recycling. Subscribe today for access to all print content.
Stakeholders working on California's game-changing extended producer responsibility program performed CPR on the EPR bill several times over the final few months.
SB 54, which was signed into law on June 30, creates a producer responsibility organization (PRO) to run a statewide collection and recycling program, with regulatory oversight, for printed paper and packaging. It took years of groundwork, collaboration and the looming threat of a ballot initiative to get it done, according to individuals who worked on the legislation.
The bill became law after failing in two previous legislative sessions. In bringing EPR to America's most populous state, the legislation's success in many ways heralded a new era in U.S. municipal recycling – one in which packaging manufacturers will be expected to fund and manage the recovery of their products.
"We showed EPR and comprehensive legislation of that nature can absolutely be bipartisan," Anja Brandon, U.S. plastics policy analyst at Ocean Conservancy, said. She added that the bill's focus on material source reduction is "inevitably where this conversation needs to evolve to in all the other states."
Several months after the frenzied period of meetings, negotiations and amendments that ultimately led to Gov. Gavin Newsom's signature, Brandon and other key policy players reflected on the process of developing one of the biggest recycling laws in U.S. history.
Bill targets
Patty Moore, executive director of the Plastic Recycling Corporation of California (PRCC), told Resource Recycling the bill is "definitely a game-changer." She added that "it's going to be a lot of work to get it up and running, and making sure it's going in a good direction."
The Plastic Pollution Producer Responsibility Act mandates a 25% reduction of single-use plastic packaging and foodservice products by 2032, with nearly half of that reduction coming from either switching to reuse and refill systems or the direct elimination of plastic packaging. The bill also requires that all single-use packaging and foodware, including non-plastic items, be recyclable or compostable by 2032, and it mandates a 65% recycling rate for plastics by that same year.
The bill covers paper and other materials, but does note that the producer-funded framework would not include a material type that has demonstrated a recycling rate of 65% or higher for three consecutive years prior to Jan. 1, 2027, and on and after that date demonstrates a recycling rate at or over 70% annually, as demonstrated to state officials every two years.
The amended text also notes that to qualify for the off-ramp, the material must meet the following criteria: It is not collected through a residential recycling collection service, it does not undergo separation from other materials at a commingled recycling processing facility and it is recycled via a responsible end market.
Further, SB 54 calls for a needs assessment paid for by the PRO but overseen by the California Department of Resources Recycling and Recovery (CalRecycle), as well as eco-modulated fees designed to incentivize producers to use sustainable, recyclable or reusable materials.
The bill sets a 65% recycling rate for polystyrene by 2032 and creates a California Plastic Pollution Mitigation Fund to address existing environmental damage and health impacts.
A timeline of passage
The foundation for the successful passage of SB 54 was laid years before it actually passed, both in previous legislation and in increasing public demand for governments to do something about growing plastic production and pollution.
California Sen. Ben Allen said two versions of an EPR bill for paper and packaging had been brought to the table in years prior, after China's National Sword policy changed end markets and increased costs for local governments, but those bills did not succeed. That's when environmental NGOs decided to start work on the California Recycling and Plastic Pollution Reduction Act, a ballot initiative that would put the issue directly to the public.
"It was really clear to us that one-off solutions like straws on demand, all these smaller plastic bills that were important bills – they ultimately weren't enough. We needed a larger framework to tackle the crisis," he said at the National Stewardship Action Council's SB 54 webinar "Path to Passage" on Sept. 28.
SB 54 was first introduced in 2019, then again in 2020, which was when "those who believed the legislature was never going to get it done started work on the ballot measure," Allen said.
Tina Andolina, a senior policy analyst for Sen. Allen who was heavily involved in SB 54, said the first bills led to the later inclusion of the advisory board, but "source reduction was left very vague in the first two years, and that was a tough nut to crack."
COVID-19 slowed everything down and the second attempt, in 2020, failed. Andolina said during the webinar that when they came back to try again, against the backdrop of the ballot initiative, one of the "critical gear shifts" they did partway through the process was to break the stakeholders into smaller working groups.
"We realized with a program as big as we were trying to put together, there was no way, with the slow progress we were making on source reduction, that we would be able to get to the other critical pieces," she said.
In March and April 2022, small groups were focusing on PRO structure, local government and haulers, fees and enforcement, as well as source reduction.
After releasing the bill publicly and continuing to tweak it, the last few weeks before passage were spent working with CalRecycle, the governor and the ballot petitioners, Andolina said.
Dylan de Thomas, vice president of public policy and government affairs at The Recycling Partnership, said the ballot initiative was what created the opportunity to pass SB 54.
"Without the ballot initiative, I don't think the style of collaboration would really have happened," he told Resource Recycling.
That's because many parties didn't want to abdicate the responsibility of crafting legislation to the voters, de Thomas added, and the industry wanted to participate in shaping the legislation, which brought them to the negotiating table.
"Different parties had different rationales to not want to see the ballot battle occur, and for all parties, it would have been a very expensive fight," he said.
With those pressures, de Thomas said the process to get to the final version of SB 54 was highly collaborative.
"We spent a great deal of time working on the bill together, sitting down walking though the bill line by line," de Thomas said.
Ocean Conservancy's Brandon told Resource Recycling that the collaborative process was what made this bill's passage unique.
"It was the process and the communal effort by multiple stakeholders to get this thing across. That was really one of the best legislative processes that I've been part of," she said.
However, the paper industry pushed to remove paper from the bill, arguing that the recycling rate was already high and PRO fees would take away from the sector's planned investments to further improve the rate.
Brandon said her environmental nonprofit group joined the negotiations as ballot measure proponents, which gave it "strong leverage to be able to push for exactly what we got in SB 54."
"We came in with really strong expectations that we were not going to settle for anything less than what we have accomplished in the ballot measure, because we knew we had to go back to our ballot measure signatories and explain the things that we accomplished," she said.
The highlights for Brandon were source reduction, holding producers financially accountable and environmental mitigation funding in the form of the California Plastic Pollution Mitigation Fund. That fund will address existing environmental damage and health impacts via the PRO, starting at $500 million per year from 2027 through 2037, with 60% of the fund's dispensations focused on low-income, disadvantaged and rural communities.
"I think making it a human-centered and people-centered process really allowed us to dive into the details in a way that was respectful but also allowed us to push and challenge each other," she said.
In the end, SB 54 received unanimous approval by the Senate and a 67-2 vote in the Assembly.
Compromises
A bill as far-reaching as SB 54 required compromise. Sen. Allen in the webinar pointed to the "great debate over polystyrene," in which environmental groups wanted a full ban and some lawmakers had a "long-standing opposition to any explicit product ban."
"At the end of the day we got to a place where we put in place an aggressive interim standard for expanded polystyrene," he said. "It will be very hard for them to meet it with how low the rate currently is but the folks on the business side wanted to give them a fighting chance."
John Kennedy, a policy advocate with the Rural County Representatives of California, said he was interested in making sure manufacturers share the costs of implementing SB 54.
He said in the webinar that what makes SB 54 "workable and appealing" is that it doesn't take a one-size-fits-all approach, recognizing that rural communities have different needs.
For example, there's no curbside-only mandate governing how recycling needs to happen, Kennedy said, which is good because "many of our communities don't have curbs. A good chunk of our communities do self-haul."
"SB 54's embrace of that concept and inclusion of non-curbside recycling opportunities is what makes it workable for many rural communities," he said, as do the exemptions for very small communities and exemptions for specific local conditions.
On the industry side, Chuck Helget, director of government affairs at Republic Services, said his support for SB 54 came with the clear dispute resolution process, fair PRO funding mechanisms and market development. He also added that Andolina "warned us early on to come out of our corners" and have real conversations.
"To protect investments in existing infrastructure, we also felt it was necessary that the existing infrastructure was utilized as a primary piece of the puzzle moving forward," he said in the webinar.
While the process was complicated by late amendments from CalRecycle "that caused some consternation on industry's part," Helget said they were able to move past much of it and that he's looking forward to clarifying CalRecycle's authority over what a responsible end market is.
The rapid timeline of the bill is also going to be a challenge, PRCC's Moore said, because she's wary of setting up a system too quickly that ends up not working.
"I think that there's enough knowledge and history out there in various parts of the country and the world where we should be able to make it work, but it has to be done thoughtfully and not rushed," she said.
As laid out in the bill, CalRecycle has until July 1, 2023, to appoint members to the advisory board. By Jan. 1, 2024, producers of covered materials need to form and join a PRO and CalRecycle must publish a list of covered material categories deemed recyclable and compostable.
By Jan. 1, 2025, CalRecycle is directed to adopt all necessary regulations to implement and enforce the law, as well as establish a baseline for the 25% source reduction.
The department has until July 1, 2025, to finish its first material characterization study to determine the amount of covered material disposed of in California landfills and until Jan. 1, 2026, to publish the current recycling rates achieved for each covered material category.
Moving to rulemaking
As the bill enters the rulemaking stage, de Thomas said the needs assessment is a vital piece, as is continued collaboration.
"The PRO has no regulatory authority over the communities and haulers – they will be required to interact with to improve the recycling system, and that is the rub," de Thomas said. "That's the piece where there is going to have to be deep collaboration and partnerships between all engaged parties and other parties as well."
Brandon said a larger budget and staff for CalRecycle will help it implement the massive bill.
"I think you will see a really robust stakeholder participation in the rulemaking process and the PRO forming and the advisory board," she said, adding that she hopes that level of buy-in will make the system run better.
An important part of the bill for Brandon is avoiding disproportionate impacts to disadvantaged, low-income and rural communities in California, as well as vulnerable communities outside the state.
"I think that is a key provision in there that will really give CalRecycle the authority and the agency to protect Californian communities," she said. "I think that was not maybe captured in all of the initial headlines, but is an incredibly powerful piece of the legislation."
In addition, the 25% source reduction and the ability of CalRecycle to review that percentage starting in 2030 to see if it's enough "really captures the spirit we had and our intention with this bill," Brandon said.
"CalRecycle's authority is critically important in giving us that comfort of knowing that CalRecycle will have the ability to check in on how things are going every five years and decide if more is needed," she said.
Advice for others
Moore said PRCC has "been doing this over 30 years and we really know what works and what doesn't work. "
"We know how to manage products on a statewide basis, so we're hopeful that we'll have a role to play in advising folks and helping them avoid some of the pitfalls that can easily happen," Moore said.
An SB 54 implementation working group is starting up for any interested parties.
For other states looking to replicate SB 54, de Thomas said the level of engagement he saw in crafting the bill is the best thing to aim for, along with greater collaboration and harmonization among different state's laws.
Brandon also said an open and equitable creation process is key. She hopes the legislation will have a ripple effect domestically and internationally.
Sen. Allen said on the webinar that he will consider "this whole effort to be a failure if we are not able to scale this model."
"This is a global effort," he said. "We are excited about the impact this will have on global markets. We're already hearing that sustainable packaging producers are getting calls from big brands interested in working with them now that the bill has passed.
Marissa Heffernan is the staff reporter for Resource Recycling. She can be contacted at [email protected].
This article appeared in the November 2022 issue of Resource Recycling. Subscribe today for access to all print content.