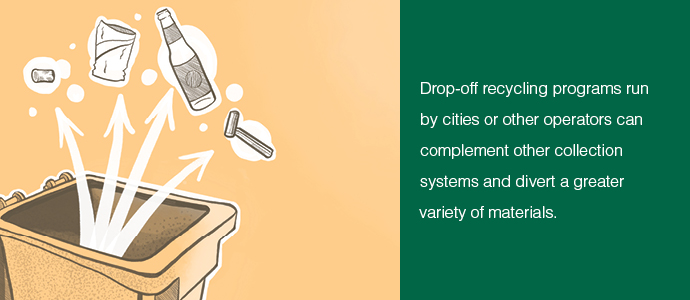 This article appeared in the October 2022 issue of Resource Recycling. Subscribe today for access to all print content.
You've seen the headlines. "City Discontinues Curbside Glass Recycling." "City Limits Plastics Recycling." And perhaps worst of all: "City Stops All Curbside Collection."
The reasons for these highly publicized cuts to curbside recycling systems are many: China's increasingly strict contamination standards, pandemic-related supply chain and staffing issues, volatile commodities markets, the logistical challenges of separating and processing commingled recyclables, and more.
But where single-stream curbside recycling halts for different materials, drop-off collection gets a chance to shine. And in many cases, well-planned drop-off efforts can help programs offer recycling opportunities for a bigger swath of the waste stream.
Around the country, municipalities and organizations have established drop-off recycling programs targeting all sorts of materials, using entrepreneurship, partnerships and general creativity to divert problematic packaging and consumer goods from the landfill.
Corks, film and more
A great example of innovation in drop-off collection can be seen in the Solid Waste District of LaPorte County, Ind.
Every resident in the largely rural county has access to recycling, and residents can put all the major recyclable items in their curbside bins. This includes fiber, glass, cartons and many plastics. Instead of being satisfied with this, county recycling officials also created an extensive drop-off recycling program that accepts items such as wine corks, solo cups, ink cartridges, plastic film, light bulbs, prescription bottles and more. In total, the Solid Waste District leverages partnerships with companies and nonprofit organizations to open up recycling avenues for a total of more than 30 different types of items.
TerraCycle runs and funds collection for the majority of the products in LaPorte's drop-off system. This includes collections for broad item categories like oral care, razors and razor blades, squeeze snack pouches and instrument strings. There are also brand-specific collections such as those sponsored by Burt's Bees, Dial, Arm & Hammer and Herbal Essences.
Sacha Gee-Burns, an environmental educator and public outreach coordinator for the LaPorte County Solid Waste District, inherited the program when she joined the county five years ago, and since then, she's added 20 or so products to the drop-off list. The new items often get added after Gee-Burns has an epiphany hovering over the trash bin at her own house wondering whether something could be recycled. Other times a resident brings in a material hoping to recycle it.
"We start digging around and usually we find something," Gee-Burns said. At the moment, she's hunting for a place that will recycle used sleep apnea masks. "That one is kind of driving me crazy," she noted.
One of the most popular drop-off programs offered through the Solid Waste District office is NexTrex, a plastic film collection effort sponsored by the composite decking manufacturer Trex. Trex runs plastic film recycling challenges for schools, universities and communities around the country and will donate a bench made of recycled plastic for every six-month period in which the community or school collects at least 500 pounds of plastic film. According to Gee-Burns, the county has no problem reaching this threshold, often doing so in just two months. LaPorte has already earned nine benches through the program.
Each week, Gee-Burns estimates that about 30 to 40 people visit LaPorte's drop-off recycling station, and she mails out around 20 boxes of material to Terracycle, Trex and other partners. Postage and packaging materials represent the main cost of the drop-off programs for the Solid Waste District.
"I'm constantly boxing stuff up," she said. "I'm always running out of packaging tape."
From food security to glass quality
Grey Bears in California's Santa Cruz County offers a similar delight for people who hate throwing things away.
The nonprofit organization got its start as a healthy food program for seniors. In the early 1970s, when Grey Bears was first formed, the founders and volunteers gleaned fruits and vegetables left behind in orchards and fields after harvest to feed local seniors in need. Today, the organization sources food donations from the local food bank as well as area bakeries and grocery stores, supplementing these in-kind donations with a small amount of purchased food items. In the year that ended June 30, Grey Bears distributed food to approximately 5,000 seniors, supplying 1.1 million pounds of food and providing more than 2 million meals.
Grey Bears expanded into recycling in 1989 when the group took over a recycling plant previously operated by the organization Ecology Action. Quarterly rummage sales became a brick-and-mortar thrift store in 1992, and four years later, the county contracted Grey Bears to operate a recycling center at the Buena Vista Landfill. Grey Bears later took over a second contracted recycling center at the Ben Lomand Transfer Station. E-scrap recycling and electronics refurbishment started in 2002, and on-site composting of food scraps began in 2004.
A major part of the group is a robust volunteer base.
"Grey Bears repurposes retirees into volunteers," said Tim Brattan, the executive director of Grey Bears. This year, 850 volunteers, mostly seniors themselves, donated around 70,000 volunteer hours.
Like LaPorte, Santa Cruz County has curbside recycling, but Brattan says some residents prefer bringing their recyclables to the Grey Bears drop-off locations.
"People love knowing that 99% of what they give us is going to be recycled, and not only will it be recycled, but it will be done in a more environmentally friendly way," Brattan said.
Glass is one good example of this reality.
Depending on the exact sorting methods used by the processor, glass collected through the single-stream curbside system is often too contaminated to be used by manufacturers in new glass containers. Instead, it gets turned into kitchen tiles, countertops, or insulation or is ground up and used as alternative daily cover at a landfill.
On the other hand, source-separated glass, like what comes out of the Grey Bears drop-off locations can be easily used to produce new glass containers. Brattan touts the lower heat required in processing due to the color separation they do at their recycling centers, not to mention the lack of a need for sophisticated robotic optical sorters.
Brattan pointed out that the typical glass container recovered at one of the Grey Bears operations will be turned into a new bottle within 18 days at a facility in the Bay Area.
An innovative startup
The challenging logistics and economics of single-stream curbside glass recycling likely played a role in New Orleans removing the material from its curbside recycling program. Louisiana's largest city hasn't consistently offered curbside glass recycling since before Hurricane Katrina struck in 2005.
Today, residents who want to avoid landfilling their glass containers can drop them off at the city's Recycling Drop-Off Center on Saturday mornings, or they can bring the material to the headquarters of the grassroots recycling startup Glass Half Full on Mondays, Wednesdays or Saturdays. Glass Half Full also offers commercial and residential glass recycling pick-up for a monthly fee.
Founded by a pair of Tulane University students in 2020, Glass Half Full turns approximately 140,000 pounds of glass into sand each month. That sand, which comes in five different grain sizes, can then be purchased for use in landscaping and gardening, sand blasting, sandbags, or mortar and cement. Glass Half Full has also partnered with scientists at Tulane and the National Science Foundation to research the feasibility of growing native plants in their sand so it could be used in coastal restoration projects. The research found the sand to be an effective and safe growing medium for the plants, and Glass Half Full completed its first coastal restoration project earlier this year, installing a glass gravel drain and rain garden with native plants in glass sand in collaboration with the Pointe-Au-Chien Tribe near Louisiana's Gulf Coast.
Glass Half Full hopes to begin selling to glass manufacturers in the near future, but at the moment, an unreliable and slow sifter prevents the group from operating at that scale. Riley Singer, the company's director of logistics, said fundraising is underway to upgrade to an industrial-sized sifter that would help them continue to grow and process more glass.
Something about Glass Half Full has captured the imagination of the country. The organization has been covered by NBC Nightly News, BuzzFeed, Good Morning America and ABC News (in addition to an online story in Resource Recycling in February), and Singer says the company receives emails every day from individuals and municipalities around the world hoping to replicate the Glass Half Full version of grassroots glass recycling. In the future, Glass Half Full hopes to offer consulting services to help new programs get off the ground.
Providing inspiration
For those interested in creating an extensive drop-off recycling program for hard-to-recycle materials, LaPorte County's Gee-Burns said she's happy to provide advice and guidance. Grey Bear's Brattan, for his part, isn't sure an organization exactly like his is replicable, but there's a lot for anyone to learn from the group's success on multiple fronts.
Just imagine if every city or county had a drop-off program for hard-to-recycle materials, a reuse-oriented organization connecting with volunteers and a forward-thinking glass recycling company. It might sound like a castle in the sky, but the three operations detailed above (and others like them across the country) are proving that drop-off collection can bolster community programs in many different ways.
Megan Kaplon is a freelance writer living in Austin, Texas. She can be contacted at [email protected].
This article appeared in the October 2022 issue of Resource Recycling. Subscribe today for access to all print content.