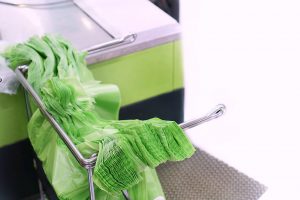 Governments, MRF operators, reclaimers and end users are calling for government regulation that requires recycled content in plastic bags.
Twenty-one North American organizations have signed onto a document titled "Keeping Plastics in the Circular Economy," which contains several key proposals and dates by which to increase post-consumer film use in bag production.
Voluntary commitments, the group wrote, are unlikely to spur the scope of change that's needed to build up the post-consumer bag-to-bag recycling industry.
"Some companies may choose to use recycled plastic to meet their corporate social responsibility goals of reducing waste or carbon emissions, but those goals often take a back seat to the financial bottom line," the group wrote.
The coalition, which recently launched a website titled Recycle More Bags, includes MRF operators FirstStar Recycling and Sims Municipal Recycling, ag plastics collection and processing company Revolution Plastics, film reclaimer EFS-Plastics, chemical recycling company GreenMantra Technologies, equipment supplier Erema, materials broker GDB International, bag manufacturer Roplast Industries, industry groups Closed Loop Partners and the Institute of Scrap Recycling Industries (ISRI), consulting firm More Recycling, and others.
Tom Outerbridge, manager of Sims Municipal Recycling, said the cross-sector support indicates a "pretty universal acknowledgement" of the problems caused by film in recycling programs.
Sims Municipal Recycling handles all the recyclables collected curbside in New York City, which does not accept film in its curbside program. Nevertheless, large volumes end up at Sims' facilities. The company has a significant expense removing the film from the other materials in the sorting process, and then it pays to dispose of it.
"It's a whole lot easier justifying or incurring that sorting expense if you could at least sell it at the end of the process," Outerbridge said.
Mandate brings stepped increase
The coalition's proposal cites existing recycled-content mandates that have bolstered industry development. Garbage bags sold in California have been required to be made with 10% post-consumer plastic for nearly 30 years. And since 2016, concurrent with a single-use bag ban at retail stores, the state has required that all reusable plastic bags be made with 20% post-consumer plastic. That requirement increases to 40% next year.
Roplast, one of the signatories and a plastic bag manufacturer, makes thicker reusable bags sold in California, and the company recently received grant funds to expand production.
The coalition recommends growing post-consumer plastic use in garbage and carryout bags to 20% by 2025, through stepped increases. Under the group's recommendation, post-consumer film would include material collected in stores, at MRFs, on farms and from distribution centers.
The effort is not lobbying for a specific legislative proposal from any one government, but rather it is providing a blueprint for consideration by any rulemaking group.
"Each signatory is able to bring this document to local politicians and provide guidance on what would help the industry with this specific problem of an oversupply of plastic bags," said Eadaoin Quinn, director of business development and procurement for EFS-Plastics.
Procurement driving demand
Besides the PCR mandate, the group is recommending procurement policy changes among governments and other large purchasers.
For example, when governments buy paper products, procurement guidelines frequently require some amount of post-consumer content. But for film products, it's less common to see recycled-content requirements in purchasing policies, according to the group.
Tara Stephen, who manages the waste management division for Peterborough County, Ontario, noted that purchasing policy carries a lot of weight. Governments must frequently select the cheapest option when making purchasing decisions, so without recycled-content language, virgin products often win.
A member of the coalition, Peterborough County accepts film, and although it is currently moving the material to a buyer, in general, the market for MRF film remains small.
"Being one of the municipalities that's still receiving plastic film in our program, we have a stake in having demand for the material and having a market for it," said Stephen.
A recycled-content requirement for large purchasing entities would tackle market development by organically increasing demand, while the recycled-content mandate approaches it from a regulatory standpoint.
If both of those forces are pushing for greater recycled film use, "we're a lot more likely to get movement," Stephen said.
Photo credit: RosaLin Zhen Zhen/Shutterstock

A version of this story appeared in Plastics Recycling Update on May 30.
More stories about plastics