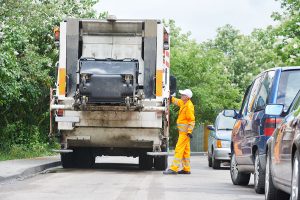 Thirty trash and recyclables collectors were killed on the job in 2017, roughly equal to the number who lost their lives the year before, according to the Bureau of Labor Statistics.
The BLS reported the 30 deaths equaled a fatal work injury rate of 35 per 100,000 full-time equivalent work hours. In 2016, 31 haulers were killed and the rate was 34.1. Both years are down from 2015, when 33 people were killed, for a fatal injury rate of 38.8.
In 2017, haulers represented the fifth most dangerous profession in the U.S. in terms of fatal accident rate. That was the same ranking as during the year before. The fatal injury rate for all types of workers across the U.S. was 3.5.
In the fall, BLS reported the injury rate for employees at MRFs in 2017. The injury and illness data shows there were 9.8 incidents per 100 MRF workers in 2017, up from 6.0 incidents per 100 workers in 2016.
According to BLS data, there were four MRF fatalities in 2017. That's up from three in 2015 but down from six in 2013. No MRF fatality figures were reported in 2014 or 2016.
In a statement, the Solid Waste Association of North America (SWANA) noted the figures underscore the need for additional safety focus in the recycling industry. SWANA, which collects and publishes its own data on industry injuries and fatalities, announced its initial 2018 figures indicate a rising fatality rate for that year.
In related news, MRF operator Friedman Recycling late last month reached a settlement with the New Mexico Occupational Safety and Health Bureau after the death of an employee in April. The Albuquerque Journal reports 28-year-old Tote Hofstetter died after he arm got caught in a conveyor belt he was adjusting. The bureau investigated and found three serious violations at the Albuquerque MRF, one of which was the absence of a protective guard on the conveyor belt, the newspaper reported. As part of the settlement, Friedman paid $11,520 in fines, corrected the violations and took other steps to protect employees.
Photo credit: Dmitry Kalinovsky/Shutterstock

More stories about data