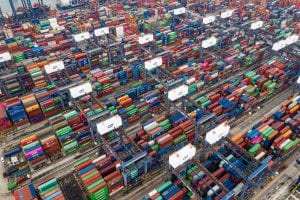 Stories about recovered paper markets and exports dominated readers' interest last month.
The list below shows our top stories published in November in terms of unique page views.
1 | Third quarter brings plastic strife but OCC movement
China has ramped up its purchases of U.S. OCC in recent months, according to the latest trade data. Meanwhile, Southeast Asian restrictions continue to stifle scrap plastic movement.
2 | Waste-to-fuel company readies U.S. facilities
A company billing its technology as a landfill alternative is scaling up to create a solid recovered fuel from otherwise disposal-bound material.
3 | China trade roundup: More materials barred at year's end
Even as exporters move off of China as a destination for certain recyclables, the country remains a crucial market. And several recent Chinese developments carry industry-wide implications.
4 | Paper recycling sector reflects on a year in flux
During the recycling markets plenary session at the Resource Recycling Conference last year, the Chinese ban on imports of key recyclables had been recently announced and was yet to be implemented.
5 | Fiber companies talk OCC pricing and export shifts
Recovered paper end users commented on some of the key trends in the recycled paper industry during their recent quarterly earnings calls.
Photo credit: leungchopan/Shutterstock