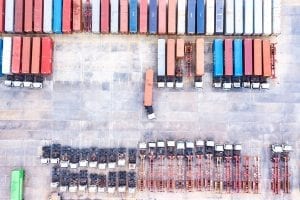 Even as exporters move off of China as a destination for certain recyclables, the country remains a crucial market. And several recent Chinese developments carry industry-wide implications.
Ban expansion: The Chinese government has confirmed it will ban additional recovered materials at the end of the year. The list is notable both for what it includes and what's not named.
China announced in April that the expanded ban was coming. The confirmation was made public by Chinese state media agency Xinhua last week.
The timing of the action remains unclear, however. The April announcement described a phased-in ban, noting that starting next year, post-industrial plastic and a variety of scrap metals and slag would be prohibited, and the following year the ban would cover scrap stainless steel, a handful of other metals and scrap wood. But in last week's announcement, the government said it will ban those materials all at once beginning Dec. 31, 2018.
The ban does not include OCC or any other recovered fiber, indicating paper grades other than mixed paper can still flow into China for the foreseeable future. There's also no mention of the all-encompassing ban on solid waste imports, which the government hinted at during the summer.
Pre-shipment inspection agencies named: Another recent announcement has repercussions on the steps exporters must take before sending material to China.
In June, China began requiring that every load of recyclables bound for China be physically inspected prior to shipment. In the past, inspections were often required when an exporter first began shipping material, and the rules would be relaxed when that exporter built a reputation for sending the right materials.
The one organization approved to conduct pre-shipment inspections, China Certification and Inspection Group (CCIC), became inundated, and exporters described major delays due to the shortage of inspectors. CCIC, which has offices around the world, began hiring more inspectors.
China's General Administration of Customs on Nov. 7 published a new list of 21 approved pre-shipment inspection agencies. All but two of them are CCIC affiliates. The two others are in Australia and Thailand.
The Chinese government also appears to have removed inspection licenses from a number of previously approved CCIC offices, according to the Institute of Scrap Recycling Industries (ISRI).
"Noticeably absent from the list are CCIC offices based in Mexico, Brazil, Argentina, India, Sri Lanka, Myanmar, Cambodia, Far East (Russia), Mongolia, Russia and the Europe branch offices in Spain and Hungary," ISRI noted in an alert to members.
That means exporters in Mexico, for instance, are being forced to seek inspections from CCIC North America, ISRI wrote. However, the Bureau of International Recycling reported that some inspection organizations are only serving the countries they're located in.
WTO concerns re-emerge: China's import restrictions continue to be a topic of discussion at World Trade Organization (WTO) meetings.
According to a WTO news release, the U.S. and four other delegations questioned Chinese WTO representatives about the scrap material import restrictions during an Oct. 22 meeting of the Committee on Import Licensing.
"The United States, which requested that the issue be included again in the meeting agenda, said recent changes in China's policies have resulted in the disposal of recyclable materials into landfills instead of being further recycled in China," according to the release.
The U.S. also highlighted that Chinese manufacturers are being forced to use virgin material without sufficient recycled feedstock. The U.S. delegation also said the import restrictions could lead to "a heightened threat of increased marine litter," according to the release.
Canada asked for a specific list of materials that need import licenses and the procedures associated with importing those materials. The Australian delegation noted it appreciates China's steps to cut down on pollution but the Chinese actions have been "more restrictive than necessary to achieve the desired objectives."
In response, the Chinese delegation said it would submit more information about its restrictions to the WTO import license committee.
Similar exchanges took place during a WTO technical barriers to trade committee meeting in June and at the WTO Council for Trade in Goods meetings in March, July and November, according to the council's annual report.
The Chinese government has responded to WTO member concerns multiple times, including in remarks Resource Recycling reported on earlier this year.
Photo credit: apiguide/Shutterstock
More stories about exports