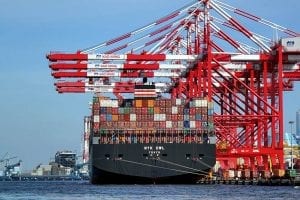 Governments across Southeast Asia continue to restrict recovered material imports. In the latest developments, Taiwan added plastic and paper restrictions, Vietnam rolled out new guidelines and Malaysia considered importing from certain countries only.
Taiwan: Scrap material imports have risen sharply this year, and Taiwan's environmental protection agency in October acted to tamp down the trend.
In early October, regulations took effect reducing the types of material allowed for import. According to the Tai Pei Times, fiber imports have been limited to OCC and kraft and de-inked paper. On the plastics side, companies can only import post-industrial plastic from their overseas production facilities or loads of a single material type. It's unclear whether certain polymers are banned altogether.
In response, on Sept. 26, the CMA-CGM shipping line immediately suspended plastic and paper recyclables shipments to Taiwan, except for OCC and recovered paper pulp, in accordance with a "local regulation to curb imports of waste plastic and paper."
Shipping company APL also added Taiwan to the list of countries it will not ship scrap plastic to as of early October.
Another shipping line, Hapag-Lloyd, told customers that loads in violation of the new restrictions would be returned with penalty charges to the exporter. As a result, Hapag-Lloyd is requiring plastic exporters to submit a letter of indemnity before a shipment can take place.
Vietnam: The ban on recovered plastic imports coming through major Vietnamese ports was scheduled to end on Oct. 15, but it has since been extended until further notice.
The day after the ban was scheduled to end, shipping line Hapag-Lloyd reported to customers that the restriction was instead extended "onwards until further notice." The company reminded customers that, despite the ban covering specific ports, Hapag-Lloyd "continues to stop the acceptance of plastic scrap and plastic waste to all ports in Vietnam."
In the weeks that followed, Vietnamese authorities implemented a variety of new guidelines. For example, the government released information about how inspections will now be conducted.
Additionally, it released regulations covering contamination limits. They differentiate between different types of contamination, according to an online translation of one document. Recycled paper and plastic shipments cannot contain higher than 2 percent "impurity" content. For a recovered paper bale, "impurity" means any of the prohibited paper grades (food packaging or paper containing flame retardants, as examples) or any non-paper substance.
But a bale of one commodity can have up to 20 percent of its weight consist of another allowed commodity. For example, an OCC bale could seemingly contain up to 20 percent mixed paper under the guidelines.
Vietnamese officials sent a letter to customs departments around the country this month, instructing them on the new regulations.
More restrictions could be on the way, with officials considering revising the list of scrap commodities that can be imported.
This process has been ongoing since July, and in recent weeks sources have reported that mixed paper may be removed from the "accepted" list. Various types of scrap plastic have also been proposed for removal. Industry associations in the country are concerned about the ramifications for manufacturers.
The restrictions come as Vietnamese ports continue to experience major delays. Last week, VietnamNet reported that roughly 3,000 containers of scrap paper, plastics and steel were congesting Cai Mep-Thi Vai seaport, one of the country's largest ports.
Malaysia: Resource Recycling reported early this month on import requirements the Malaysian government is working on. It's unclear when those rules will take effect. In the meantime, the government is not issuing import licenses for scrap plastic.
Steve Wong, executive director of the China Scrap Plastics Association, told Resource Recycling that Malaysia is proposing to only allow scrap plastic from the U.S., Europe and Japan.
Late last month, media outlets widely reported that Malaysia is planning to ban plastic imports in coming years, based on information presented at a meeting of several government ministries in October. But in mid-November, Malaysian Housing and Local Government Minister Zuraida Kamaruddin indicated there are no plans to ban scrap plastic shipments from industrialized countries. The statement was reported in Free Malaysia Today newspaper.
The ban has been described as an effort to reduce imports of non-recyclable plastics, rather than usable scrap materials.
Photo credit: Shi Yali/Shutterstock
More stories about Asia