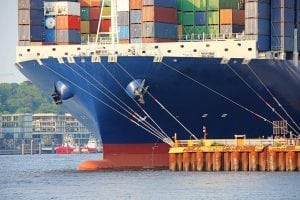 Many developments related to the Chinese recycling import market have taken place in recent weeks. The following is a look at key updates.
CCIC's U.S. suspension ends
Inspections by the North American branch of China Certification and Inspection Group (CCIC) resumed June 4. The organization provides pre-shipment inspections for companies that export all types of scrap material to China. Virtually all loads of recyclables that travel from the U.S. to China must obtain pre-shipment approvals, and CCIC is the only organization that has been allowed to conduct them.
The Chinese government suspended CCIC's ability to inspect and certify shipments for one month beginning May 4, putting a virtual freeze on recovered material shipments from the U.S. to China. However, two weeks into the suspension Chinese authorities announced they'd allow the Canadian CCIC office to conduct inspections on U.S. loads.
Some industry insiders have downplayed the importance of the CCIC suspension and reinstatement in the saga of the Chinese import restrictions. For example, fiber expert Tedd Powers commented during a recent webinar that even with CCIC able to inspect loads, the overarching material ban on mixed paper and other materials remains in place, and the tightened contamination requirements are active.
CCIC inspections resuming "does not mean that exports now are going to flow freely from the United States; they didn't lift the ban, they didn't change any of their regulations," Powers said. "So I don't think that action in and of itself really is going to have much of an impact going forward."
The Institute of Scrap Recycling Industries also noted that "a CCIC pre-shipment inspection certificate is not a guarantee that materials will be cleared at the port of arrival."
Inspections more rigorous
Although CCIC inspections have resumed, they are not exactly as they were before the suspension. According to fiber market analysis firm RISI, the Chinese government now requires all CCIC pre-shipment inspections to be done in person instead of allowing self-inspection. Companies that had been physically inspected in the past and had clean records were previously allowed to self-inspect, for example, through sending photographs. But with the new rule, each load must be inspected in-person by a CCIC agent, regardless of the company's record.
"The change in the inspection regime has apparently put an end to the self-inspection practice, requiring a CCIC delegate to do a physical examination on site," RISI reported. "It has immediately caused a storm in the industry."
The policy has significant financial implications for recycling operations. CCIC charges a $152 inspection fee, plus $60 per hour for the inspector's time and $0.54 per mile for the inspector to travel to facilities, according to American Metal Market.
Latest crackdown the 'largest' yet
Chinese customs agents recently conducted another coordinated enforcement action as part of the Blue Sky 2018 campaign, an effort that is aimed at stopping the smuggling of recovered materials and that is expected to last through the end of this year..
In a summary of the recent action, the General Administration of Customs (GAC) described the raid as the "largest scale" operation cracking down on waste imports to date.
Nearly 1,300 customs agents conducted simultaneous inspections and enforcement actions in 17 provinces or municipalities, including Beijing. Customs officers "arrested the involved suspects, searched the involved companies or places, and seized the warehouses or dens storing or processing smuggled-in solid wastes, consequently wiping out 39 smuggling groups at one blow," according to GAC.
The agency captured 137 criminal suspects and identified 606,000 tons of smuggled solid waste, according to the release. That material included waste plastic, slag and scrap metal.
Permit volumes lower than ever
Meanwhile, the Chinese government issued the latest round of import permits on May 29.
The permits approve 44,337 metric tons of recovered paper, and no plastic import permits were issued. This is the lowest volume for paper import permits this year. However, as paper-market information resource RISI has noted, there are still a lot of unused import permits, seemingly due to the strict inspections at ports of entry.
Feedstock shortfall leads to Chinese producer downtime
Nine Dragons, which is by far the largest paper company in China and one of the largest in the world, recently enacted temporary shutdowns of several Chinese mills that consume recycled content.
RISI reported the company began downtime at two recycled containerboard mills with a combined capacity of 650,000 metric tons per year, as well as a recycled cartonboard mill producing 500,000 metric tons per year. The temporary halt was slated to last five days and was attributed to a shortage of recovered paper.
The move follows Nine Dragons' recent announcement that it will acquire two U.S. virgin pulp mills, the company's first investment in the U.S. mill industry, which could provide it with more virgin pulp to replace the lack of recovered fiber.
Other Chinese mills have also recently announced downtime. Lee & Man, China's second-largest paper company, announced that four of its recycled paper machines will take downtime during June.
Comparing volumes into China
Figures for U.S. exports to China have been released for the first four months of the year. They illustrate the massive drop in volume the country is importing.
U.S. paper exports to China this year are at 63 percent of the volume they were during the same period in 2017. Plastics, meanwhile, have been hit even harder. U.S. plastics exports to China are at nearly 8 percent of their volume during the same period last year.
The precise volumes for Chinese imports from the U.S. for the first four months of 2017 and 2018 are as follows:
Paper
U.S. shipments to China
4.06 million metric tons 2017
2.55 million metric tons 2018
Plastics
U.S. shipments to China
621 million pounds in 2017
48 million pounds in 2018
Photo credit: Canetti/Shutterstock