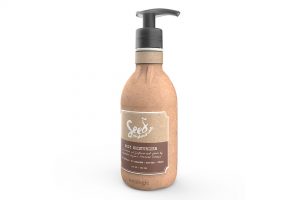 A $1 million loan from the state of California will help a small manufacturer boost its production of recycled-fiber-content bottles.
The California Department of Resources Recycling and Recovery (CalRecycle) on May 9 approved a low-interest loan for Manteca, Calif.-based Ecologic Brands. The company's eco.bottle is made up of a 100 percent recycled fiber shell with a plastic inner lining. The fiber comes from OCC and ONP. The monolayer plastic lining can also use recycled content.
The bottle is used to package personal care, food and beverage, pet care and home cleaning products.
CalRecycle's $1 million loan will help the company expand production by buying and installing a pulp molding machine, four fiber molds, two liner pouch molds, four integration molds and one spout insertion machine. The equipment will allow it to begin making smaller bottles.
"The expansion will provide the business with greater capacity to process cardboard and waste paper that is destined for a landfill," according to a CalRecycle memo.
This is the second of two CalRecycle loans to Ecologic. The first, approved in February 2016, totaled $2 million. That money was used to buy automated themoforming, pulping and integration machines, all of which replaced old manual manufacturing equipment.
The loan was provided through California's Recycling Market Development Zone program. In a new letter addressing the impacts of China's National Sword, CalRecycle Director Scott Smithline pointed to the program as one of the funding tools the agency uses to bolster domestic markets for recovered materials (see this Resource Recycling article for more on the letter).
More stories about California