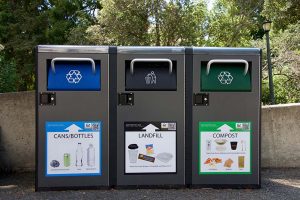 Two makers of solar-powered garbage and recycling receptacles have settled their patent-infringement dispute.
BigBelly announced in a May 11 press release it reached a settlement in its legal fight with Ecube Labs. Details of the settlement were not released in the press release or court documents.
The companies had been battling in federal court since August 2017, when Massachusetts-based BigBelly sued Ecube Labs, which has locations in the U.S. and South Korea. BigBelly claimed Ecube Labs infringed on its patent for its automated compacting receptacles, specifically the functions related to power management.
Ecube Labs in November denied the allegations before going on the offense, asking a court to find that BigBelly had infringed Ecube Labs' patent.
In an April 24 filing with the U.S. District Court, Central District of California, the parties informed the court they'd reached a settlement and wanted to end the case, with each party paying their own attorneys fees and costs.
Photo credit: Sheila Fitzgerald/Shutterstock
More stories about courts/lawsuits