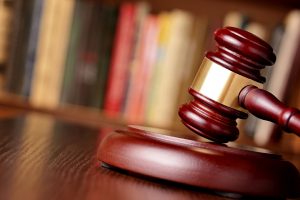 A patent battle over solar-powered recycling and garbage receptacles has taken a new twist, as the defendant has countersued the plaintiff for the same allegations of patent infringement.
Ecube Labs, a manufacturer with locations in Los Angeles and Seoul, South Korea, was sued by Massachusetts-based BigBelly in August. Both companies produce public collection bins that compact their contents using solar power. BigBelly claimed Ecube was infringing on its patent by manufacturing a receptacle with many of the same design features.
Shortly after the initial filing, an Ecube spokesperson told Resource Recycling the company "unequivocally" denies infringing on BigBelly's patents and was "fully prepared to take the legal steps necessary to resolve this complaint."
In a Nov. 21 filing in the U.S. District Court, Central District of California, Ecube asks the court to declare it has not infringed any part of BigBelly's patent. Ecube also asks the court to declare BigBelly's patent invalid and to find BigBelly has infringed Ecube's patent on the same technology.
On the same day the counterclaims were made, Ecube received a patent from the U.S. Patent and Trademark Office. The company already held an international patent through the Patent Cooperation Treaty (PCT), but had not been issued a U.S. patent.
"The patent we are asserting in this case represents the important technologies in our (intellectual property) portfolio, which are vital to the autonomous and intelligent functions of a smart solar-powered compactor," Sean Gwon, CEO of Ecube Labs, said in a statement. "We filed this suit to stop Big Belly's unauthorized use of our patented technologies."
BigBelly could not be reached for comment by press time.
More stories about courts/lawsuits