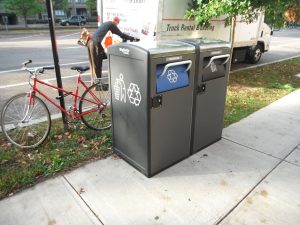 A U.S. manufacturer of solar-powered recycling and garbage compacting receptacles claims another equipment company has copied its patent-protected technology.
Massachusetts-based BigBelly produces trash and recyclables receptacles designed for use in public spaces. The devices are solar-powered and automatically compact collected materials, allowing for less frequent and more efficient collections.
According to the company, nearly half its deployed containers have recycling service included. The company was launched in 2003 and its devices are now used in more than 50 countries. BigBelly's technology is protected by patents filed in 2006 and 2009.
The solar power component "allows the trash compactor to be placed in locations where no power is available, but with frequent human traffic," according to its patent.
On July 28, BigBelly filed a lawsuit against Ecube Labs, a manufacturer with locations in Los Angeles and Seoul, South Korea. The suit claims Ecube's "Clean CUBE" solar compactor infringes on BigBelly's patent.
The lawsuit, which was filed in U.S. District Court in the Central District of California, runs down a handful of features of the Clean CUBE device and compares them with language from BigBelly's patent. These include basic design features, such as both devices using solar panels to compact materials, as well as more specific device behavior, including both companies' compactors skipping a compaction cycle when the battery charge drops below a certain threshold.
BigBelly asks the court to declare that Ecube infringed the patent and to award BigBelly an unspecified amount in damages, as well as attorney fees and court costs.
Ecube had not filed a response as of Monday. According to court documents, BigBelly first contacted the defendant in April about its concerns over patent violations. The companies corresponded several times, and Ecube eventually said it could not "meaningfully evaluate" the concerns unless BigBelly would provide claim charts for each alleged count of patent infringement.
According to a press release, BigBelly has filed a similar lawsuit against EconX Waste Solutions, a Netherlands-based company also producing a solar-powered compactor for the European market. That lawsuit was filed in Germany.
More stories about courts/lawsuits