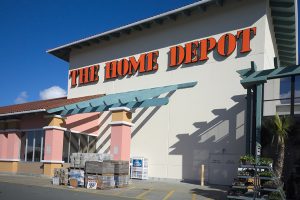 The Home Depot will pay nearly $28 million in a California settlement involving disposal of household hazardous waste, electronics, batteries and intact customer information.
According to the Alameda County District Attorney's Office, the Atlanta-based retailer will pay $18.5 million in civil penalties and costs, provide $2.5 million to fund supplemental environmental projects and spend at least $6.8 million complying with agreed-upon compliance measures.
Between 2013 and 2015, inspectors from multiple public agencies looked in 45 trash compactors at 31 Home Depot stores. Every one of them contained hazardous waste, and many contained customer records that hadn't been shredded or rendered unreadable, according to a press release. The wastes included scrap electronics, pesticides, aerosols, paint and colorants, solvents, adhesives, batteries, mercury-containing fluorescent bulbs, key shavings and other toxic, ignitable and corrosive materials.
In a civil complaint filed in February, prosecutors alleged more than 300 Home Depot stores and distribution centers around the state were routinely sending hazardous wastes to local landfills not permitted to receive them and putting sensitive customer information at risk of exposure.
According to the release, The Home Depot took steps to cooperate with investigators and dedicate additional resources to compliance. For example, it conducted dozens of compactor waste assessments and put customer records in lock boxes throughout the stores. It also committed to hiring hazardous waste compliance managers.
The settlement was approved by a judge on March 8.
California has seen a number of cases involving improper disposal in recent years. Last month, a judge approved a settlement obligating 57 AutoNation dealerships and collision centers to pay $3.4 million. A number of settlements were signed in 2017 regarding allegations of improper disposal of electronics and hazardous wastes: DirecTV for $9.5 million, retailer Big Lots for $3.5 million and Dollar General stores for more than $1 million.
But some of the largest dollar figures in California were agreed to in 2014 and 2015. AT&T agreed to a $52 million settlement in 2014, and Comcast agreed to pay $26 million in 2015.
Photo credit: Todd A. Merport/Shutterstock
More stories about courts/lawsuits