Chinese authorities have issued the first five rounds of recyclable-material import permits for 2018. Compared with 2017, the country has allowed substantially less recycled plastic to enter the country and approved permits for far fewer companies across all material types.
The first five batches approve 21,300 metric tons of scrap plastic, according to data published by China's Ministry of Environmental Protection. For comparison, the China Scrap Plastics Association recently noted more than 3.5 million metric tons of scrap plastic were approved for import just in the first batch of permits issued for 2017
On the fiber front, the first five rounds of permits approve 4.6 million metric tons of scrap paper for import into the country. A total volume for fiber import permits issued during a comparable period in 2017 was not immediately available.
The sheer number of permits issued was drastically reduced. For instance, in the first batch for 2017, there were 2,937 permits issued for import of various materials and volumes. In the first round this year, there were just 108 permits issued.
The exact permit tonnages in the first five rounds of permits are as follows:

New year-end data from China Customs also quantifies the decrease in tonnages flowing into China from 2016 to 2017. Some 5.83 million metric tons of scrap plastic were shipped into the country in 2017, down from 7.35 million metric tons throughout 2016.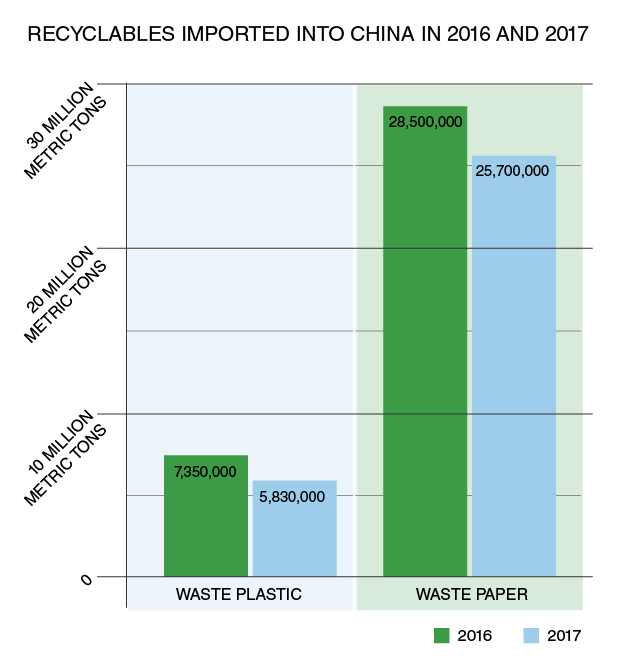 The year-to-year drop in plastic tonnages between 2016 and 2017 became particularly dramatic at the end of last year. In December 2016, importers brought in 740,000 tons of scrap plastic; during the same period a year later, amid restricted permits and the looming materials ban, that figure fell by more than 75 percent to just 180,000 tons imported.
Paper also felt the effects by volume. Overall in 2016, China imported 28.5 million tons of recovered fiber, a figure that dropped to 25.7 million tons in 2017. More than 2.6 million tons of recovered paper and paperboard were imported into China in December 2016, compared with 950,000 tons in December 2017.
More stories about Asia