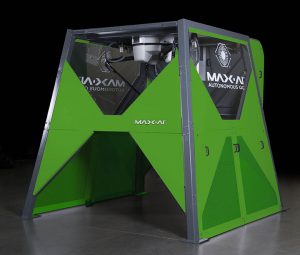 An equipment company has given its intelligent robot a new task in a new workplace. The artificial intelligence sortation unit will recover six separate materials at a facility in the U.K.
Eugene, Ore.-based Bulk Handling Systems (BHS) sold a Max-AI AQC (autonomous quality control) robot to U.K.-based industrial and commercial waste company Green Recycling.
Max-AI units deployed in U.S. MRFs have worked in a quality control capacity, removing contaminants from the PET stream. But the Green Recycling robot will target OCC, ONP, magazines/pamphlets, HDPE natural, PET bottles and small pieces of wood. It will increase recovery rates without adding manual sorting staff, according to a BHS press release.
The Max-AI is one of the newest generation of artificially intelligent robots that visually recognize a wide variety of items on a belt, similar to how a human sorter would. The systems also learn and improve their accuracy over time. The Max-AI robot uses suction to lift up to 65 items a minute off the belt.
At the Green Recycling MRF in Maldon, England, the Max-AI unit will be stationed near the end of the line, after equipment used to open bags, collect films and segregate items using screening and air separation technologies. Of the six fractions it will target, it will be programmed to prioritize OCC and other fibers over plastics and wood, said Jamie Smith, general manager at Green Recycling. Smith told Resource Recycling the robot will recover materials just before they head to refuse-derived fuel disposal.
Noting that it's difficult to find reliable manual sorters, Smith said his company likes that the robot can help provide reliability and efficiency while shifting staff away from "undesirable dirty jobs" and into more technical jobs. In addition to operational benefits, the Max-AI will be the first recycling robot with artificial intelligence in the U.K., giving Green Recycling a unique selling point, Smith said.
Green Recycling calculates a three-year investment return period. Smith said that estimate is based on the robot replacing two sorters working seven-hour shifts and on the facility running longer shifts with minimal human input. The robot is scheduled to begin operating during the first quarter of 2018.
Deployments of robotic sortation technologies accelerated in 2017. Unveiled earlier this year, Max-AI units are now operating in three U.S. facilities: GreenWaste Recovery's mixed-waste MRF in San Jose, Calif.; Athens Services mixed-waste MRF in Sun Valley, Calif.; and Penn Waste's single-stream MRF in York, Pa. Denver-based AMP Robotics makes a different robotic sorting system using artificial intelligence to recognize materials.Targeting cartons, AMP robots are operating at the Alpine Waste and Recycling single-stream MRF in Denver and Dem-Con's single-stream MRF in Shakopee, Minn. Finland-based ZenRobotics has a system in operation at Recon Services' C&D facility in Austin, Texas.
More stories about MRFs