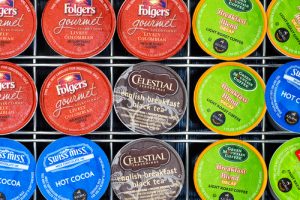 This story has been updated.
Three organizations are pushing to have their packaging types accepted at MRFs, but six nonprofit recycling groups are pushing back.
The Institute of Scrap Recycling Industries' (ISRI) MRF Council was scheduled to hear presentations this morning (Nov. 7) from Keurig Green Mountain, the Foodservice Packaging Institute (FPI) and the Hefty EnergyBag Program. They were expected to argue in favor of MRFs accepting three categories of packaging: K-Cups, takeout food and drink packaging, and rarely recycled plastics (multilayer films, expanded polystyrene, utensils, etc.) collected in separate bags for energy recovery.
The three organizations have been involved in efforts to expand acceptance of their materials in residential recycling programs. Their appearance at the meeting was driven largely by ISRI's paper industry representatives, who worry the addition of the new packaging types could contaminate fiber bales. While the K-Cups and food-service packaging would go through the MRF sortation process, the EnergyBag program is designed to have workers pull the bags on the pre-sort line so they can be baled separately.
In a letter, six nonprofit recycling companies are pushing back against adding the packaging categories to programs. Community Conservation Centers of Berkeley, Calif.; Eco-Cycle of Boulder, Colo.; Ecology Center of Berkeley; Eureka Recycling of Minneapolis; Recycle Ann Arbor of Ann Arbor, Mich.; and Tri-CED Community Recycling of Union City, Calif. wrote a letter to ISRI detailing their objections.
"While we are excited by opportunities to increase recycling, we believe that given the current importance of material quality and potential issues of contamination these materials bring, the lack of clarity on market acceptance and demand for these items, relatively small diversion potentials and the potential to confuse residents through conflicting educational messages, now is not the time to add these materials at MRFs," according to their Nov. 6 letter. "We ask ISRI not to add these items as acceptable in any stream."
The presentations were held as part of ISRI's Fall 2017 Board of Directors meeting in Washington, D.C. After the three 45-minute presentations, representatives of Keurig, the FPI and the Hefty EnergyBag program were to be asked to leave the room before a discussion of the proposals. ISRI develops and maintains specifications that ease the trade of recyclables leaving MRFs. In this case, no specifications have been yet proposed for recovered K-Cups, takeout packaging or the rarely recycled plastics.
Anti-incineration group GAIA has been working to rally opposition to the Hefty EnergyBag program, which is supported by the Dow Chemical Co. GAIA recently organized an online pledge to oppose efforts to expand the program, which involves collecting rarely recycled plastics at the curb so they can be taken to facilities for energy recovery.
This story has been updated to clarify how MRFs handle incoming Hefty EnergyBags. 
More stories about MRFs