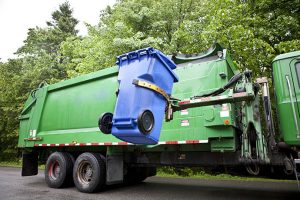 MRF operators are increasing their labor forces and installing additional sorting equipment in response to Chinese restrictions on scrap imports. At the same time, a standard ton of single-stream recyclables in the U.S. has dropped in value by roughly 50 percent in recent weeks.
Inside China, meanwhile, mills are seeking virgin fiber products to replace the mixed paper they can no longer import. They're also paying dramatically higher prices for OCC recovered within the country. In the U.S., however, OCC prices have plummeted.
But while the market turmoil continues, the Chinese government sees the developments as a step toward increased environmental protection. The government can accept "short-term chaos" if it leads to environmental benefits, said Hannah Zhao, senior economist for paper industry analyst firm RISI. In addition to being part of a long-term plan for environmental protection, the actions are meant to reduce reliance on foreign feedstocks.
For U.S. companies who have shipped to China for years, the chaos is forcing more immediate changes nationwide. Zhao and four MRF operators were among the speakers on an Oct. 19 webinar hosted by The Recycling Partnership. The webinar, which drew more than 500 listeners, broke down how different regions of the U.S. are being impacted and how some facility operators are responding.
Input quality is key
Bob Cappadona, vice president of Casella Recycling, said his company has added workers on the tip floor, on the sort lines and near the balers to inspect for quality.
Casella has six MRFs in the Northeast, and they are increasingly breaking bales to ensure maximum quality. There has been a renewed focus on the quality of material entering the MRF, Cappadona said, with workers looking at every load on the tip floor.
"It is very difficult to make a good quality product … without a quality input," he said.
Equally important, Casella is ensuring its sort lines are running at their designed tons-per-hour throughput.
"There's no sense in running it any faster, which takes discipline," Cappadona said. It can be a hard call, he added, particularly when material is stacking up on the tip floor.  But if equipment is pushed over its designed throughput, "you have quality issues, you don't have pure separation, so it affects it downstream," he said.
Casella has seen slow movement of material, he said, particularly on the fiber grades. The materials formerly bound for China are now heading to Thailand, Indonesia, India and other countries, and some material has been pushed domestically.
The biggest impact has been the sharp decline in commodity values, Cappadona said, describing a 50 percent decline in the value of the single-stream ton as a whole.
Inspections increase
From Northern California, a public waste management agency described erratic movement of materials and drops in fiber and plastics pricing. The South Bayside Waste Management Authority (SBWMA) is storing materials more than usual due to the inconsistent ability to move shipments, said Hilary Gans, the agency's facility operations contract manager.
"It always starts with quality but it always ends with price." — Hilary Gans, South Bayside Waste Management Authority facility operations contract manager
The SBWMA is a joint solid waste agency with a dozen member municipalities around the San Francisco Bay Area.
Gans said many MRF operators in Northern California are in a similar position. He also described reports of companies filling warehouses with bales in Long Beach, a major fiber exporting port in Southern California.
Gans said the agency doesn't plan to landfill materials unless it is strongly pressed to do so, noting that it creates a public relations problem for any recycling program. But if the mixed plastics market doesn't stabilize, he said, the agency might consider removing some of those materials from its list of collected recyclables.
The agency has hired more sorters and is inspecting one in 10 bales, Gans said, to maximize quality.
He described the dramatic drop in pricing for recyclables since China made its announcement. OCC was selling for $217 per ton in July and is now down to $91 per ton. On the mixed paper front, the agency has seen prices go down from $121 per ton to $43 per ton.
The agency has adjusted its budget based on the Chinese policy changes, Gans said, as it has in the past during periods of heightened focus on quality.
"It always starts with quality but it always ends with price," he said.
New equipment installations
Bill Keegan, president of Dem-Con Companies, which operates a MRF about 20 miles outside Minneapolis, said his facility is slowing down sort lines in response to the policy changes. That results in less production and higher labor costs per ton. He said the region has an increased need for processing capacity since it has slowed lines.
"Tonnages that were processed at a facility easily previous to the National Sword are now being moved over to even competitors' facilities that have excess capacity just to handle those volumes," he said.
Dem-Con has looked to hire more employees but has had trouble doing so, Keegan said, pointing to the 3 percent unemployment rate in the region as a challenge. In response, the company has begun looking toward automation. The company has added an optical sorter in the past month, he said, and is also experimenting with adding robotics to its line. Resource Recycling previously wrote about a carton-sorting robot the company has installed at its MRF.
Dem-Con has seen some of its markets dry up due to China's policy changes, Keegan said, particularly for film.
"We're working with municipalities to communicate that, so they don't continue to increase the variety of items in the bin when we're having challenges moving the standard items that we're seeing in there," Keegan said.
The changes have also led to an increased focus on contractual negotiations, Keegan said, particularly ensuring the company's contracts with municipalities are more transparent and sustainable and share the risk between both entities.
"When we're not seeing that in an RFP, we've recently just not bid contracts," he said.
Separating high-value materials
Joaquin Mariel, general manager of Balcones Resources in Austin, Texas, said the Chinese import restrictions are a response to a very real problem in the recycling industry.
"Ultimately, we did have a contamination issue with exported and domestically shipped waste paper in this country," Mariel said. "There were too many MRFs not taking it seriously, there were too many MRFs making a ton of money off OCC when markets were good and shipping a lot of junk elsewhere."
Balcones has taken the opportunity to push quality where it can, including reducing the volume of overall mixed paper by sorting more materials out. For example, the company is working to mitigate the "Amazon effect" of OCC making up a larger portion of the residential single stream. Specifically, by sorting out more OCC, the company reduces the amount of mixed paper while increasing the volume of higher-value OCC.
"We're going to see more virgin fiber imported to China, less recovered paper imports to China, and more paper and board imports to China." — Hannah Zhao, senior economist for RISI
Long-term realities
Inside China, current import permits have been on hold since May. While numerous paper mills have applied for import permits, there has been no concrete news from the Chinese government about 2018 permits, RISI's Zhao said. She noted a rumor of a "significant cut" in the amount of recovered paper allowed for import next year.
As imports of recovered fiber have fallen off, brokers have begun importing finished paperboard products.
"They're trying to import containerboard, boxboard or newsprint from other regions, because there's not enough fiber available to run their own paper machines," Zhao said.
"We're going to see more virgin fiber imported to China, less recovered paper imports to China, and more paper and board imports to China," she said. "That could be the long run from the Chinese government in terms of the general paper and board industry."
More stories about markets