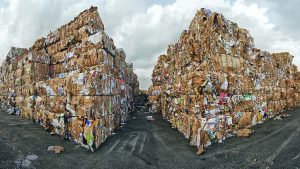 The top recycling executive at Pratt Industries views China's planned imports prohibition as a chance for the U.S. industry to clean up its stream.
Recovered fiber players who don't take that opportunity within their own operations will bear the brunt of the imports ban, said Myles Cohen, president of the recycling division at Pratt Industries.
"It's those [MRFs] who have not invested in upgrading their technology, without the newest and greatest sorting equipment, those are probably the people and companies that are going to have the toughest time with this," Cohen said. "They're going to have to decide. What are they going to do: invest in technology and upgrade their business, or not."
Of the 3.7 million short tons of mixed paper consumed by U.S. mills in 2016, Pratt Industries was "by far the biggest piece," recovered fiber consultant Bill Moore of Moore & Associates said in a recent interview. That gives the company a unique position in the domestic recovered fiber industry. Asked in an interview how Waste Management would fare if all mixed paper were banned from import into China, the country's largest hauler pointed to Pratt and its recent domestic capacity expansions as factors that would soften the blow.
Pratt uses entirely recycled content to produce corrugated boxes and point-of-purchase displays. Residential mixed paper makes up the largest stream of feedstock, Cohen said, although the company has technology that allows for a blended feedstock that also includes old newspapers and corrugated boxes mixed together.
Contamination has "wreaked some havoc"
Cohen said China's announced ban was not a total surprise to the company. He pointed to the rise of single-stream recycling in recent years, noting how it's increased contamination within the recovered fiber stream. Pratt has mostly moved off buying from producers of low-quality fiber bales that don't meet its desired specifications.
China's crackdown will likely lead to closer attention paid to contaminants in paper bales, Cohen said.
"It's an opportunity for the MRFs that pack mixed paper to have more scrutiny on quality, which they should have, because the contamination has really wreaked some havoc within the recovered paper industry," Cohen said.
As to whether the ban presents an opportunity for Pratt, Cohen said it's too early to tell. Several months before the ban announcement, Pratt Industries Executive Chairman Anthony Pratt recently announced the company would invest $2 billion in additional U.S. processing capacity.
But Cohen noted there's still a lot of ambiguity about what exactly is meant by some of the ban language – for instance, the "unsorted waste paper" identified in the World Trade Organization filing announcing the ban is not a material grade as defined by the Institute of Scrap Recycling Industries. There are rumors that bales containing more than a specified percentage of contamination would be considered "unsorted."
"There's been a lot of paper exported that has way more out-throws and prohibitives," Cohen said. "And now what they're saying is, 'We don't want to take garbage anymore.'"
Impacting other streams?
The ban could also have a ripple impact beyond cleaning up quality and injecting more recovered fiber into the domestic U.S. stream.
If China's manufacturing sector is suddenly cut off from some grades of mixed paper, Chinese mills may decide to use more OCC in its place, as OCC is not named in the ban. That, in turn, would put more pressure on the U.S. supply of OCC if more of it gets exported out of the country, Cohen said.
OCC is already selling at record prices, with the current national average sitting at $180 per ton as of early August. If demand from China increases markedly, those prices could be pushed even higher.
Cohen also noted most MRF operators have learned not to have China as their only downstream outlet for paper during the past few years, particularly after Green Fence. Many have learned to develop domestic outlets for their fiber material. On the international front, although no single market has as much capacity as China, some companies have spread their exports to other markets, including Southeast Asia, the Middle East, Latin America and more.
"And I'm sure some of those markets are looking at this as an opportunity, that they won't have to compete with China as much for supply," Cohen said.
More stories about fiber