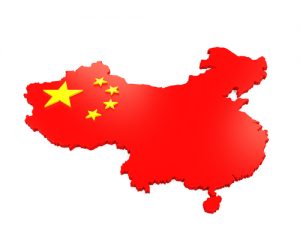 U.S. recycling leaders who are closely tied to export markets say China's proposed prohibition on recovered plastic and paper imports could drive changes all the way back to the curb.
In a July 18 filing with the World Trade Organization (WTO), China's Ministry of Environmental Protection said recycled PET, PE, PVC, PS and "other" plastics – as well as unsorted mixed paper, textiles and some trace metals – would be banned from import into the country later this year.
The Chinese government has offered no further clarification on the finer points of what would be covered. But even without all the concrete details, companies are taking the announcement seriously.
"We're reacting immediately to this, as though it were to happen today, just because of the timing and when some of these shipments get there," said Brent Bell, vice president of recycling for Waste Management.
Resource Recycling spoke to the country's largest hauler, as well as a Midwest recycling company, a PET broker and a recovered paper consultant, and learned how they view the imports ban and how it relates to previous Chinese regulatory efforts.
More serious than past actions?
Waste Management, the largest waste and recycling company in North America, anticipates it will feel the biggest impact in the market for plastics No. 3-7. Most of its PET and HDPE grades stay in the U.S., Bell said, but China is a more significant downstream outlet for the lower-grade plastics.
The WTO filing does not give a firm adoption date but mentions an "entry into force" date in September, and it says the ban would be enacted by the end of the year. For Waste Management, that means containers leaving for China in the next few weeks could potentially arrive when the new regulations are in place.
"It didn't come as a surprise to us, because we saw some foreshadowing of this earlier on in the year," Bell said. "We just didn't know what specifically it meant and what the time frame would be, but for them to file with the World Trade Organization, it's a pretty significant change."
In some ways Waste Management views the latest announcement as a step into uncharted territory. Other Chinese import crackdowns in recent years, such as Green Fence and National Sword, have been framed as heightened enforcement of existing regulations.
"I view [the ban] a lot differently and probably a lot more seriously to some degree," Bell said. "Because they're actually announcing that there are specific materials and grades that … will not be allowed in the country."
"We're reacting immediately to this, as though it were to happen today."
–Brent Bell, Waste Management
Bell said the ban could lead to more domestic 3-7 processing capacity. If China disappears as a downstream outlet, domestic processors of lower-grade plastics will not have to compete with Chinese prices, "so maybe their business model works today," he said.
Bell also said the move will likely play into discussions at the local government level. Whenever there is a significant end-market change outside of commodities pricing, that gets communicated to the company's customers, including municipal recycling programs.
"We do let them know there could be some interruption for some period of time and it may impact all the materials that are accepted in the program," Bell said.
Bell said that on the paper front, it's important to remember the Chinese ban announcement noted "unsorted" material. He said the company has been in touch with its Chinese mill buyers, who continue to report a strong demand for higher-quality sorted paper, which the company has pushed to produce since Green Fence began creating difficulties for lower-grade paper exports.
"We actually don't make any unsorted mixed paper, we sort all of our materials," Bell noted. "On that side [the ban is] not really an issue for us at all."
Finding new markets, pushing quality
For Michigan-based Royal Oak Recycling, a hauler and broker that moves close to 800,000 tons per year of material, shifting exports away from China actually began about 18 months ago.
Between Chinese regulatory actions and simply a higher volume of material it needed to move, the company started looking to alternative countries. It took a gamble on several emerging economies in other parts of the world and has formed solid relationships with buyers, said Craig Reeves, the company's director of sales and operations. He estimates just 1 percent of the company's plastic scrap ships to China.
As Chinese regulations continue to roll in, other companies are apparently looking to follow suit.
"Because a lot of people have stopped shipping plastic scrap into China, it's flooded some of the other markets with more availability of the material," Reeves said.
That fact could mean a heightened emphasis on quality may be seen in those alternative markets, Reeves noted.
Ed Mamou, vice president of Royal Oak Recycling, described the ban as an opportunity to review curbside recycling programs and improve their quality. He pointed to the companies that began sorting polypropylene out of mixed bales as a response to Green Fence, improving the value of those curbside streams. The ban could also spur more communication between the various players in a residential stream, with increased outreach and efforts to minimize contamination.
"You have to educate people and hold people accountable, and if you don't, you end up with garbage," said Reeves. "That's the message, that they want [garbage] to stop coming into their country. And it's no different than what we would want coming into our own country at the end of the day."
Mamou echoed that communication across the recycling supply chain will be key during the imports ban, extending from hauler to end user.
"If I'm a broker of material working with the MRF, I would have already been telling them to clean it up, otherwise you're going to have no outlets for this material," he said. "So if the broker's not doing his job telling the MRF, or the end user's not telling the MRF to clean it up better, then everybody's in a little bit of trouble."
Doubts about ban implementation
The nonprofit Plastic Recycling Corporation of California (PRCC) buys and sells recovered PET bottles, moving more than 100 million pounds per year. PRCC handles about a third of the recovered PET bottles generated in California.
Sally Houghton, materials manager for PRCC, said around 85 percent of its recovered PET sales are domestic. Most of the remainder is exported to China.
But Houghton is not convinced China will fully ban all of the materials outlined in the recent announcement.
"I find it hard to believe that China is going to cut all imports, because they rely so heavily on it and they manufacture so much of the plastic [products] in the world," Houghton said.
However, she said if the ban is in fact enacted, "it would cause a big issue for the industry. Not just for bottles but for other plastics, lower-grade plastics that really don't have many alternatives. PET's always got alternatives, but I think other grades, the 3-7s and so on, I think they're going to struggle much more."
In the wake of Green Fence, the U.S. saw a push for more domestic plastics processing, and Houghton said PRCC could likely find domestic markets for the material it currently sends to China. She added, though, that the effort to keep more material in North America after Green Fence has come with struggles as processors were forced to work harder to get their lower-grade material moved into market.
"It did have, in some ways, a good impact," she said. "But it also meant those that really didn't have upgraded material had great difficulty."
'Mixed paper prices would plummet'
As Bell of Waste Management noted, China's definition of "unsorted" paper will be key to the implications the ban has on the recycled fiber market. Should China decide to ban imports of mixed paper outright, it would be "chaotic for the global recycling industry," said Bill Moore of Moore & Associates, an Atlanta-based paper recycling consultant.
In 2016, the U.S. exported 4 million short tons of recovered mixed paper, of which nearly 2.4 million went to China, according to figures provided by Moore. The next closest country was India, receiving 460,000 tons.
The U.S. export market for mixed paper was somewhat larger than the 3.7 million tons processed domestically last year. With China's prominence as a downstream outlet, the implications of a total ban would be severe, Moore said.
"I find it hard to believe that China is going to cut all imports, because they rely so heavily on it and they manufacture so much of the plastic [products] in the world."
–Sally Houghton, Plastic Recycling Corporation of California
"Mixed paper prices would plummet in the U.S., North America and in Western Europe because all the mixed paper we're pumping out in residential [programs] would have no home," Moore explained. "So that would be chaotic at the local government level, at the MRF level, at the collector level. It would be complete disruption."
It could lead to further domestic processing capacity, he said, but there would likely be a time lapse between the ban and the new equipment coming on-line. If mixed paper actually saw a complete ban on imports into China, Moore said the U.S. industry would look at it as an opportunity.
"They'd say, 'Okay, we've got this really low cost of fiber that we can use, but it's going to take 24, 36, 48 months to gear up equipment wise to be able to use that,' so there will be some painful times," he said.
Has the industry ever encountered that kind of tribulation before? Moore recalled the late 1980s and early 1990s, when residential recycling was quickly ramping up across the country but demand was not yet established. There was a chronic oversupply and low prices for four years before the processing infrastructure and demand picked up, he said.
Like Houghton of PRCC, Moore expressed some skepticism that an all-out ban on the specified material grades would come to pass. But he added that a heightened level of import scrutiny from China is part of what the industry should be expecting from the country at this point.
"The one thing that jumps to mind is, they keep on pushing," Moore said. "You can trace this all the way back to Green Fence."
More stories about exports