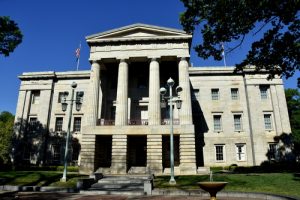 Funding for North Carolina's state recycling support program has been largely preserved in a compromise budget approved by both legislative chambers last month.
The final budget reduces funding to the Division of Environmental Assistance and Customer Service (DEACS), an office within North Carolina's Department of Environmental Quality (DEQ), by $500,000 and eliminates seven DEACS positions in regional offices, according to Rob Taylor, the division's recycling and materials management section chief.
But the recycling program "was not directly impacted and expects to continue its work to advance recycling in North Carolina, including the operation of grant programs that support strategic investments by local governments and recycling businesses to advance materials recovery," Taylor told Resource Recycling. Taylor recently succeeded Scott Mouw, who retired from DEACS earlier this year as state recycling program manager.
DEACS is involved with recycling efforts in the state through providing funding and technical assistance, outreach and more. The state Senate previously proposed completely eliminating the office in the upcoming budget year. That move would have saved $2.9 million each year, but stakeholders feared it would leave a substantial hole in recycling support to local governments and businesses.
The Carolina Recycling Association (CRA) and the Southeast Recycling Development Council (SERDC) mobilized efforts to contact legislators and explain the importance of the DEACS program. North Carolina has a high concentration of plastics recycling companies, and the Association of Plastic Recyclers (APR) also put out an online call to its members with lawmakers' contact information.
When the House of Representatives released its budget, DEACS funding was almost fully restored with just one vacant staff position eliminated. With the final budgetary compromise, Taylor said the division will likely need to trim its expenses as part of the overall cuts to DEQ, which saw its funding drop more than $1.1 million, but he said the recycling program has been left largely intact.
Recycling was not alone as a contentious issue in the state's budget cycle. After the Senate and House came to a compromise budget, Gov. Roy Cooper vetoed the proposal, citing a number of funding actions he disagreed with. But both chambers ultimately voted to override his veto, and the budget was finalized on June 28. The contention comes as the state's Democratic governor has been locked in feuds with both Republican-dominated legislative chambers.
"We're not happy about those jobs being cut, but we know it could have been so much worse and that the efforts of industry members making their voices heard made a huge difference," said Mary McClellan, executive director of CRA.
It also gave recycling advocates practice in communicating their message to legislators.
"Let's hope this doesn't come up again," McClellan said, "but if it does, we'll be ready."
More stories about local programs