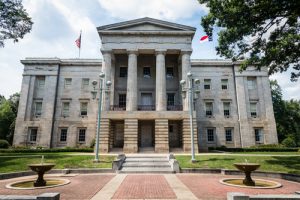 Funding for a North Carolina recycling support program has been restored in the state House of Representatives' budget proposal, a sharp departure from the Senate's desire to slash the office entirely.
The House passed its version of the budget on June 2 by a vote of 80 to 31, and among the many changes from the Senate's May 12 version, funding for the Division of Environmental Assistance and Customer Service (DEACS) was almost fully restored. The House version funds the DEACS program at approximately $2.9 million annually for the next two years.
DEACS provides technical assistance and grant funds to public and private organizations, offers information and guidance to recycling companies, leads outreach efforts to help cities spur public participation in recycling and trains recycling professionals throughout the state at various conferences.
"All those things, you put them all together and they really mean the state recycling office is an engine, a catalyst that really moves the recycling system forward in North Carolina," former division director Scott Mouw said last month.
The Carolina Recycling Association (CRA) advocated for restoring the funding in the draft budget, creating a petition that has now gathered 400 signatures. CRA Executive Director Mary McClellan and Will Sagar, executive director of the Southeast Recycling Development Council (SERDC), visited the state capitol to talk with legislators and deliver the petition. The reception from House members was positive, McClellan said.
"They seemed to understand the local impact that it has in their districts," she told Resource Recycling. "That was really encouraging. The feedback was that they wouldn't have been aware of the cuts if we hadn't brought their attention to it."
Under the House budget, the only cut to the program would be elimination of a staff position that's been vacant for more than six months.
It was unclear exactly why the division was targeted by the Senate for cuts. The primary Senate sponsors of the budget bill, as well as a spokesperson for the Senate Republicans, did not respond to requests for comment.
As for the House reversal, McClellan pointed to lobbying efforts, noting in an update to members that "efforts from the industry seem to have made a real impact." Public radio station WUNC also reported efforts from citizens and local governments persuaded House members to continue funding the program.
Next, the two legislative chambers will work to come to a compromise budget that blends the two versions, before it heads to Gov. Roy Cooper's desk for a final signature. The new fiscal year starts July 1. McClellan said advocacy efforts will now turn to the Senate leadership, and it remains unclear how hard Senate members will push to retain the cuts.
"I don't think that the struggle is over," McClellan said. "I think that we're going to take a proactive approach, and again mobilize our members and friends and friends in the industry to get in touch with key Senate contacts."
More stories about local programs