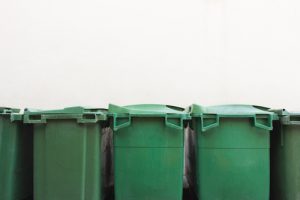 If a municipal recycling program wants to increase its performance, local government engagement is needed. Several program leaders made that clear during a discussion hosted by the U.S. EPA last week.
The discussion was framed around The Recycling Partnership's 2016 curbside program report, which looked at 465 cities in the country. In the webinar, municipal program leaders from Madison, Wis., Portland, Ore. and Florence, Ala. described their diverse experiences boosting diversion in their cities.
The study examined a range of components in each curbside program, including container type and size, frequency of collection, materials accepted, sorting infrastructure and method of financing. Then, it examined results in each city and looked for patterns in the areas with high diversion. Single-stream, carts and automatic enrollment in recycling were all associated with the most successful programs.
"All of the highest-performing cities had something called a 'public action,'" explained Dylan de Thomas, The Recycling Partnership's vice president of industry collaboration (de Thomas is former editorial director for Resource Recycling). That means a local government had some sort of action to trigger recycling at the household level. "The key is the municipality, the city or town, is connecting to residents to be able to increase recycling and they really see that it's very effective, as the study showed."
The public action can be any number of outreach or participation-boosting initiatives. A program with no public action essentially leaves it up to residents to seek out recycling collection. There might not be a website or any kind of outreach, and residents would have to really take the initiative to receive collection service.
Households in programs with a public action recycled on average about 100 pounds more per month than those in areas with no public action, de Thomas said.
Making it mandatory
One form of public action is the local government requiring recycling service.
"People shy away from the word 'mandatory' recycling," said George Dreckmann, former recycling coordinator for Madison, Wis. "I would tell you that if you're going to do something, make it mandatory."
It's worked for Madison, a city of 250,000 that has achieved a 58.4 percent diversion rate. That figure includes all materials collected, including yard waste, bulky items and electronics. The program has always had a contamination rate of less than 10 percent, Dreckmann said.
Madison's curbside recycling has longevity on its side, with curbside newspaper collection beginning back in 1968. The city has had a great deal of public action over the years, including an outreach budget that was once up to $200,000 per year.
"Recycling has been a big part of the community for years," said Bryan Johnson, current recycling coordinator for the city. "We have a lot of the buy-in from the public."
Dreckmann pointed to mandatory recycling as a key component of the program's success, and he advised other communities to take similar measures.
"The 'draconian' part of mandatory recycling comes in as to how you enforce it," Dreckmann said. "It's not the word 'mandatory' that automatically makes something bad and incites that segment of the population that's always incited by anything government does."
In Madison, he said, if a resident doesn't put out their recycling cart, they get a warning that their trash will stop being collected in two weeks. That system is very effective, Dreckmann said.
Leveraging receptacle sizes and organics
Once a single-family household in Portland, Ore. signs up for collection service, it receives four bins, explained Pete Chism-Winfield, materials and waste specialist with the city's Bureau of Planning and Sustainability. The standard configuration is a 32-gallon garbage container, 60-gallon recycling cart, 60-gallon organics cart and 20-gallon glass bin. Garbage is picked up every other week, and the other three receptacles are collected weekly.
Commercial and multi-family properties are required to offer recycling service and education, haulers are required to provide collection service, and businesses generating food scraps must use an organics-collection service. Portland also has a ban on plastic bags and EPS food-service items.
Portland has a diversion rate of 64 percent, including yard debris and food scraps collected for composting. The city has a contamination rate of about 9 percent in the single-family stream and double that in the multi-family stream. Chism-Winfield added that according to city rules, contamination is technically "not allowed."
With its robust recycling measures in place, the city has looked to the U.S. EPA's waste management hierarchy for direction on future initiatives.
"We're really trying to move up with our outreach into the realm of reuse and waste prevention," Chism-Winfield said.
He pointed to a recent ordinance requiring deconstruction (dismantling for salvage) rather than demolition for houses built in 1916 or earlier.
'That really is having a ripple effect, not only environmentally but also economically, and also with workforce development," he said.
Talk it up
Florence, a city of about 40,000 in northern Alabama, is in a quite different situation than Madison and Portland both population-wise and in terms of regulations. But through its own public action and community buy-in, the city's recycling program has also increased its performance.
Florence began its curbside program in 1988 with bins, and it switched to carts in 2015 with help from The Recycling Partnership.
"We just don't have money to do a whole lot, so we have to make it go a long way," said Rachel Mansell, Florence's education and outreach coordinator. The program uses social media, school events, tours, news coverage and more.
"The goal is to get people talking and say, 'Hey, what can I do?'" she explained.
In the past, the city attached a variety of tags to contaminated carts, telling residents they were recycling incorrectly. But program leaders quickly received feedback that approach was not popular with residents. It switched to a message thanking residents for recycling and asking for their help to improve the program.
More stories about local programs