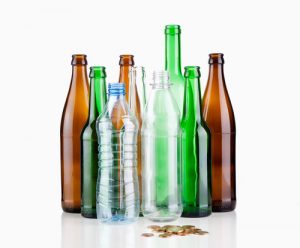 With the frequency of container deposit-related legislation, advocates often look to other states for examples of what to expect when a new law is proposed, and there's no shortage of states to refer to.
This year alone, container deposit programs have been introduced in Illinois and Virginia, and expansions have been proposed in California, Connecticut, Maine, Massachusetts and Vermont.
"It comes up almost everywhere around the country, a few states every year," said Susan Collins, president of the Container Recycling Institute (CRI), in a bottle-bill-focused webinar last week.
Bills aiming to repeal and replace container deposits are also common, and the webinar presented the recent experiences of those trying to fight against advancing bottle bill repeals in two states, Connecticut and Iowa.
The webinar presented an overview of the challenges California's unique redemption system is facing, which Resource Recycling covered in a recent story.
Connecticut effort
In both Connecticut and Iowa, replacement proposals have been based on what's known as the "Delaware model." Delaware's universal recycling law, signed into law in 2010, repealed the state's container deposit and replaced it with a four-cent container tax that funded recycling grants until its sunset date.
The Delaware model has become a popular model championed by container deposit opponents, who argue deposits are outdated and ineffective, according to CRI consultant Jenny Gitlitz.
Senate Bill 996 passed through the Connecticut Senate's environment committee this year, the first deposit repeal bill to make it that far since the bottle bill went into effect, according to Lou Burch, Connecticut program director for Citizens Campaign for the Environment. The legislative session has a few weeks left, during which he estimated the discussion and negotiation will continue.
"This came as a surprise for many of us in the environmental community," Burch said.
The replacement proposed by SB 996 would remove the five-cent deposit and replace it with a four-cent nonrefundable tax. The fee would generate about $57 million each year. Portions of the proceeds would go to the state general fund, haulers and municipalities to offset the cost of the increase in single-stream collection volumes. Some of it would also go to beverage container reuse efforts.
As the law is written, the tax would sunset after seven years, Burch said, "leaving the state and municipalities, really, with no dedicated funding stream to deal with recycled beverage containers."
Battle in Iowa
A similar battle took place in Iowa this legislative session. Legislators proposed replacing the state's container deposit with a "comprehensive recycling plan," explained Troy Willard, CEO of a Cedar Rapids, Iowa redemption center called The Can Shed.
"They use a lot of warm, fuzzy terms – comprehensive, community enhancement, litter control and all this stuff – but they really don't put any meat into any solutions or costs of what it's going to take to achieve the same types of results that we enjoy with the bottle bill," he said.
Iowa's companion bills House File 575 and Senate Study Bill 1186 would eliminate the deposit and replace it with a one-cent tax on covered containers up to a maximum of $60 million, Willard said. The money would fund the transition away from the deposit model.
Iowa's lawmakers recently adjourned the 2017 season in April, with both deposit bills still sitting in committee. That means they'll be considered "live" going into the state's 2018 session, Willard said.
To combat the repeal effort, Willard said deposit advocates are trying to shift the discussion toward what could make the bottle bill more effective. They are looking to other states for examples of how to improve the law, whether through handling fee increases, shifting the responsibility from grocers to distributors, doubling the deposit charge or other measures.
Willard said public opinion is on their side, noting that polling shows only about a fifth of the state's residents want to get rid of the bottle bill.
"It's kind of our cornerstone legislation that led to a lot of recycling initiatives in Iowa," he said.