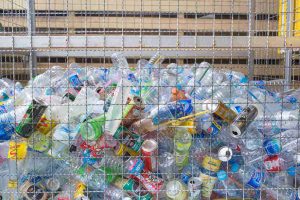 The Golden State's container redemption program differs from bottle bills in other states, and according to a new study, that might be bringing it down.
More than 300 collection centers, which accept drink containers covered by the California Redemption Value (CRV) program, have closed their doors in the past 16 months, according to the state Legislative Analyst's Office (LAO).
In light of that trend, the nonpartisan agency released an analysis last month looking at the unintended consequences of the way the state program is set up. The review pointed to a few aspects peculiar to California's program and contrasted them with programs in nine other deposit states.
The CRV program adds a 5- or 10-cent surcharge on drink containers, with the amount depending on their size. The charge is refunded when the container is returned for recycling. Most returns are done through collection centers, also known as redemption or recycling centers.
The CRV program collects an immense number of containers. From July 2015 through June 2016 – the most recent 12-month period for which figures are available – the state redeemed 8.6 billion PET containers, 7.5 billion aluminum cans and 2.4 billion glass bottles, out of more than 18.7 billion beverage containers altogether.
Collection center closures
As of early April there were 1,692 collection centers operating, down from 1,832 one year earlier. The CRV program establishes "convenience zones" that cover a half-mile around supermarkets with annual sales of more than $2 million. If there is no collection center in these areas, the supermarket is responsible for redeeming covered containers or paying a daily fee to opt out.
The percentage of convenience zones unserved by a collection center statewide jumped from 14 percent to 25 percent from March 2016 to March 2017. That impacts businesses, which become legally obligated to redeem or pay the fee, and consumers, who have fewer options for redemption.
Lagging handling fees
California collection centers are responsible for selling containers to processors, as opposed to other states in which beverage distributors fund that process. That means collection centers have to absorb the cost when scrap values fall. The LAO noted that often hits collection centers harder than it does distributors, which tend to be larger companies.
That's why collection centers located within convenience zones receive payments from the California Department of Resources Recycling and Recovery (CalRecycle) to offset the difference between scrap values and collection costs. This is similar to the handler fee paid to redemption centers in many other states, except for how the fee is set. Rather than an amount set by lawmakers, California's payments are based on the average cost to collection centers.
But the LAO pointed out the handler fee amount is only updated quarterly, which often fails to keep up with quickly fluctuating commodity prices. Other unexpected economic changes can take even longer to factor into the handler fee. For instance, the report cited a recent raise in the minimum wage and explained that "these increases will not fully be reflected in the handling fee amount for several years until data can be collected and incorporated in the next cost survey completed following those increases – likely in 2020."
Lacking flexibility
Finally, the LAO report took note of the operational flexibility redemption outlets enjoy in other states, compared with the relative rigidity of California's redemption center requirements. Along with simple requirements such as mandated hours of operation, California prohibits certain departures from standard bottle collection systems that have been implemented in other states. As examples, mobile collection programs, such as those in Hawaii and New York, are not allowed. Bulk collection, in which customers can drop off bags full of containers for redemption, is also limited.
"Removing requirements that are costly or not effective could make additional closures less likely," the report concluded. "If there is concern that eliminating some requirements might reduce consumer convenience, the Legislature could consider using pilot projects to collect data and monitor the effects of the change before implementing them statewide."