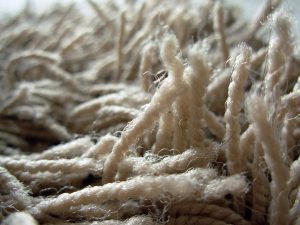 The head of California's recycling department rejected a stewardship group's carpet recycling plan, putting at risk carpet sales in the state of 40 million people.
In a public meeting on April 18, Scott Smithline, director of the California Department of Resources Recycling and Recovery (CalRecycle), said he would reject the 2017 plan submitted by the Carpet America Recovery Effort (CARE). His department found the plan – and prior CARE plans – have failed to comply with state law.
"This plan has not demonstrated how it can achieve the goals that are in this plan," he said. "And in it's current form, it's not approvable. So I will not approve this plan today."
The meeting brought to a dramatic head a long-brewing conflict between CARE, an industry stewardship group, and CalRecycle. It also represents a rare public breakdown between a stewardship group and government regulators. CARE works to fulfill carpet collection and recycling obligations on behalf of dozens of carpet manufacturers under California's extended producer responsibility (EPR) system. The group manages money generated by fees consumers pay when buying new carpet. Those fees are estimated to generate over $24 million this year.
CalRecycle staff in December said the 2017 plan fails to meet state standards. Among those failures, it fails to show a path toward continuous meaningful improvement in the recycling of carpet, according to the agency.
Recycling carpet face fiber, the upper part consumers regularly touch, can yield post-consumer nylon, nylon 6,6, PET/PTT and PP. In some cases, the plastics can even be recycled back into new carpet.
State imposes hefty fines
Also in December, CalRecycle announced it was pursuing enforcement action.
In March, CalRecycle filed an accusation document against CARE imposing nearly $3.3 million in fines. The accusation is separate from consideration of the 2017 stewardship plan.
The document alleges CARE failed to show continuous meaningful improvement in carpet recycling in 2013, 2014 and 2015. According to the document, the recycling rate was 12.2 percent in 2013, 12.1 percent in 2014 and 10 percent in 2015.
In calculating the penalties over those three years, CalRecycle took a number of factors into consideration, including the fact that the bill may be split by multiple manufacturers in the multi-billion-dollar industry, so a high dollar amount would be needed to have an deterrent effect.
CalRecycle also referenced CARE's voluntary stewardship program, which subsidizes carpet recycling companies that do not participate in or support an EPR system. Currently, California is the only state to implement mandatory EPR for carpet. CARE's voluntary stewardship program requires that subsidy recipients refrain from supporting EPR programs for 18 months after they receive CARE money. CARE documents described the goals of the voluntary program as promoting voluntary and market-based solutions for carpet recycling and opposing mandatory EPR.
CalRecycle's accusations document cited that language in CARE's voluntary program as evidence that CARE was "at least negligent and may have been knowing and intentional" when it violated California's mandatory program.
CalRecycle spokesman Mark Oldfield told Plastics Recycling Update that CARE has requested a hearing on the matter with the California Office of Administrative Hearings, and one has been set for Sept. 25-28.
'Consequences of failure here are extreme'
Legally, if no approved collection and recycling plan is in place for a particular carpet product, manufacturers, wholesalers and retailers are forbidden from selling that product in the Golden State. They could be subject to fines of $10,000 a day for violating the law.
On Tuesday's meeting in Sacramento, the state capital, various interests spoke urging Smithline to reject, approve or delay a decision on CARE's 2017 plan.
Bob Peoples, executive director of CARE, insisted CARE was making progress despite facing difficult markets and a lack of recycling capacity.
"The challenges we continue to face are not simple or easy to solve," he said.
That being said, he expressed optimism that new outlets for carpet recycling are coming soon, mentioning an advanced facility capable of recycling 40 million pounds of post-consumer carpet each year. That facility is under construction in Southern California and is expected to come online later this year.
Peoples asked for a 60-day extension to give time for CARE and CalRecycle to work through the issues.
"Let's sit down face-to-face and talk through this to reach the depth of understanding both parties believe is critical to the success of this program," Peoples said.
Smithline said he was aware that "the consequences of failure here are extreme."
While claiming the plan fails to meet state requirement, Smithline said it's incumbent on his agency to have a steady hand moving forward on enforcement. He wanted to focus enforcement on carpet manufacturers, deferring any action against retailers and wholesalers.
He asked CalRecycle staff to defer enforcement for two months, giving CARE time to submit any plan revisions it chooses in that time.
He asked agency staff to draft and present an enforcement plan that focuses on carpet manufacturers. Suggesting that some manufacturers may not fully understand their obligations under California law, Smithline said he wanted the enforcement plan to involve educating them about the law's requirements, including by holding a workshop. He also wants it to provide individual carpet makers enough information and time to craft and submit their own stewardship proposals outside of CARE, if they choose.
The agency's draft enforcement plan is scheduled to be presented at a CalRecycle public meeting for possible approval on May 16. If approved, it would go into effect in June.