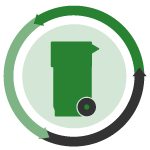 A new MRF is making some money and extending the life of a landfill, and the European Union's elected body approves aggressive recycling targets.
Successful MRF: A newly built MRF in the Florida Panhandle is recovering 85 percent of incoming materials and is making a little money, according to the Pensacola News Journal. The Emerald Coast Utilities Authority was built last year and was recently featured by Resource Recycling as a MRF of the Month.
Aggressive targets: The European Parliament puts its stamp of approval on a 70 percent MSW recycling target for the European Union in 2030. For packaging materials, specifically, the targets would be 80 percent. The body must now negotiate with another branch of the EU called the Council of Ministers.
Food waste: New Jersey lawmakers are advancing a package of bills focused on solving the food waste problem, according to the NJ Spotlight. The bill tackles everything from food date labeling to making it easier to donate uneaten food to people in need.
Bag group convened: Just weeks after New York state lawmakers blocked New York City from levying a 5-cent fee on single-use plastic bags, the state's governor has announced he's formed a task force to address plastic bag waste. Gov. Andrew Cuomo, who signed the bill blocking New York City's bag fee, said in a press release that the diverse coalition of experts will address the waste generated by the 23 billion plastic bags New Yorkers use each year.
Possible ban on bans: Lawmakers in Minnesota are pushing for a statewide ban on local plastic bag bans. The Echo Press newspaper reports that a committee in the state House of Representatives voted 10-7 to disallow municipalities from enacting ordinances banning single-use plastic bags, and a Senate committee took testimony on the issue last week.
Battery roll-out: Battery stewardship group Call2Recycle will introduce a new all-battery recycling program to respond to growing consumer demand. According to a press release, beginning April 1 collection sites will have a menu of services they can choose from, including a pay-as-you-go, all-battery collection option.