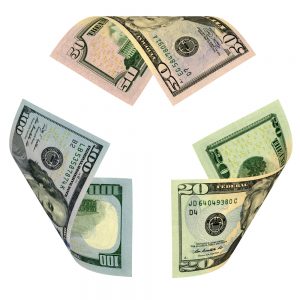 A rebound in commodity values meant substantial recycling-related revenue boosts for North America's two largest residential haulers.
Houston-headquartered Waste Management (WM) reported it generated $1.22 billion in revenue from recycling last year, an increase of 5 percent over the year before.
Republic Services generated $420 million from the sale of recyclable materials, up 13 percent from 2015.
Last fall, Resource Recycling reported that the top three haulers experienced higher commodity prices in the third quarter of 2016.
The following is a breakdown of revenues for the two largest publicly traded companies involved in residential recycling in North America. The data was reported in filings with the U.S. Securities and Exchange Commission (SEC). Waste Connections, the third-largest company, plans to release its full-year 2016 financials after the close of the stock market on Feb. 21.
Waste Management
Increased revenue was driven largely by a rebound in the price of recovered commodities. WM collects and sells its own recyclable materials, and it buys and sells material through a separate brokerage business. Those lines of business together enjoyed a 7 percent increase in commodity values in 2016. That meant a revenue bump of $51 million, according to its annual financial report.
The fourth quarter, in particular, saw higher values. Average commodity prices for materials flowing through company MRFs were up 31.6 percent during the fall, compared to fall 2015, according to a press release.
While increased commodity values brought more revenue in 2016, low prices meant steep revenue drops during the previous two years. As a result, the company has worked to revise the terms of its contracts to reduce its risk to commodity price fluctuations.
But, it notes in its annual report, that strategy could also bring some risk. The resulting "potential increase in the cost for recycling services may make it more difficult for us to win bids and may slow the growth of recycling overall."
In addressing risks, the company also noted that a significant portion of the fiber it markets is exported for recycling, particularly to China. The annual report said President Trump's administration "has called for substantial changes to foreign trade policy and has raised the possibility of imposing significant increases in tariffs on international trade. Restrictions and tariffs on exporting would have a significant impact on our recycling operations."
Recycling now makes up about 9 percent of WM's revenues, which totaled $13.6 billion in 2016, up 5 percent from 2015. WM now has 95 MRFs, a number that includes C&D sorting facilities.
Republic Services
Phoenix-based Republic also enjoyed higher commodity prices, according to its annual filing.
For example, Republic was able to sell OCC for an average of $114 per ton, up from $103 per ton in 2015. Its ONP sales averaged $99 per ton, up from $80 in 2015. The company estimates that about three quarters of the weight traveling through its MRFs is OCC, ONP and mixed paper.
Republic sold 5 million tons of recyclable materials in 2016, about half of which moved through its 64 MRFs and half was collected by Republic and delivered to third-party facilities.
Recycling now makes up about 4.5 percent of Republic's revenue pie. Overall, the company brought in $9.39 billion in revenue last year, up 3 percent from the year before, according to a press release.