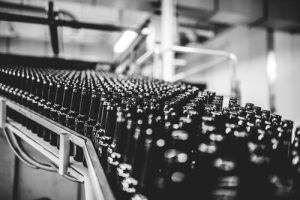 The Oregon Beverage Recycling Cooperative (OBRC), which operates the state's container deposit program, announced it will pursue a refillable glass bottle program in partnership with local craft brewers.
With a staff of 275 employees and annual budget of $34 million, OBRC collects and processes all of the glass, aluminum and plastic beverage containers redeemed by consumers across the state. That puts it in a uniquely advantageous position when it comes to launching a refillable beer bottle program.
A press release from the group notes that it operates a network of bottle and can return facilities, called BottleDrop redemption centers, a fleet of trucks operating across the state and a deposit reconciliation program. It already has relationships with brewers, distributors and retailers. Additionally, the organization has facilities to house washing equipment.
"A refillable bottle program is a progressive step in responsible materials management for Oregon's craft brew industry," John Andersen, president of OBRC, stated in the press release. "The beverage industry is committed to not only upholding the legacy of the Oregon Bottle Bill but expanding stewardship efforts through new and innovative programs like this one."
Oregon's bottle bill, the first in the nation, places a 5-cent deposit on beer, malt beverages, carbonated soft drinks and bottled water. Starting April 1, 2017, the deposit will increase to 10 cents. The redemption rate was 64.5 percent in 2015.
Craft beer sales make up a larger share of the beer market in Oregon than in any other state. More than 22 percent of all beer consumed in Oregon was brewed in Oregon. The Portland metropolitan area, alone, has more than 100 breweries.
A rarity today
Refillable bottle programs are uncommon in the U.S. today, although Canada and Europe utilize the systems. Refillable bottles were widely used in the U.S. during the early decades of the 20th century. According to the Container Recycling Institute (CRI), refillable bottles made up 86 percent of the beer bottle market in 1947. That same year, they made up 100 percent of the soft drink market.
By 1998, refillable bottles had declined to only 3.3 percent of the beer market and 0.4 percent of the soft drink market.
OBRC noted that a lack of partner networks and necessary infrastructure have presented common roadblocks to expanding refillable bottle programs beyond just single breweries.
A June 2009 study that explored the opportunities and challenges of launching a refillable bottles program in Oregon noted that the rise of grocery store-based reverse vending machines as a collection method has been a factor hindering refillable bottle programs. For example, the installation of reverse vending machines in 1994 was a major factor in Henry Weinhard's decision to end bottling of its beer in refillables. The study was prepared for the publicly funded Oregon Recycling Markets Development Corporation.
Today, OBRC is working to build a network of standalone BottleDrop centers around the state. Those facilities offer more flexibility for the separate collection of heavier, sturdier refillable bottles.
Rolling out refillables
OBRC anticipates refillable beer bottle operations will start within the next two years. A pilot phase will focus on larger bottles in partnership with local breweries. That pilot phase, which expands on the currently limited single-brewer refillable programs, could involve selling and refilling more than two million bottles per year.
One of those partner breweries is Double Mountain Brewery, based in Hood River, Ore.
"I'm excited to partner with OBRC on a larger refillable beer bottle initiative," said Matt Swihart, founder of the brewery's fillable bottle program. "Customers of our current system love the softer environmental footprint and know they are part of a solution to sustainability."