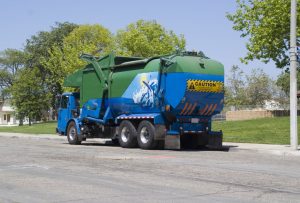 An industry training and awareness program focused on vehicle safety kicked off Monday, just weeks after a report showed that occupational deaths among collectors were on the rise in 2015.
The Safety Stand Down on Vehicle Backing is the latest in a recurring safety series led by the National Waste & Recycling Association (NWRA). Each week-long episode pinpoints a specific area of safety concern: Recent topics have included emphasizing safety during "back to school" season and the dangers of working in hot weather.
This time, the spotlight is on reducing accidents related to vehicles backing up.
Last month the U.S. Bureau of Labor Statistics released data indicating 33 people were killed in 2015 while working refuse and recycling collection jobs. That was six more deaths than there were in 2014. The federal agency listed refuse and recycling collection as among the top 10 jobs with the highest fatal injury rate, although it was far lower than the 885 deaths of truck and delivery drivers.
Of those and all other waste and recycling occupational deaths, the NWRA estimates nearly a third were caused by backing vehicles. Backing accidents "continue to be a leading cause of preventable deaths for waste and recycling workers," according to the NWRA.
The week will focus on "reducing accidents, fatalities and injuries related to truck-backing incidents that represent a common challenge for the industry," the group stated.
The Stand Down includes a Facebook Live event on Wednesday and a national call-in on Thursday. Registrants will receive a collection of safety resources.
Company participation is voluntary, but those who join the safety effort show commitment to assessing risks at job sites, reviewing company policies, training employees on procedure changes and more, according to the NWRA.
Numbers are not yet available for deaths in 2016, but vehicle backing played a role in at least one death that made headlines last year. An employee at Mid-America Recycling backed a skid-steer loader into a concrete wall, causing the wall to collapse and kill another employee.
To register for the safety program, which continues through Friday, visit the NWRA's registration site.