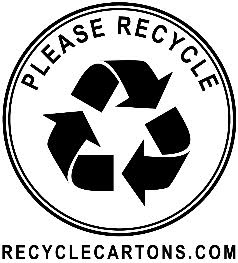 Carton recycling is now available for 60 percent of U.S. households, meaning the packaging can begin carrying the "chasing arrows" symbol and "please recycle" text.
Industry group Carton Council of North America announced the milestone on Jan. 24. The 60 percent figure is important because, under the Federal Trade Commission's (FTC) Green Guides, it means carton recycling is now available to a "substantial majority" of consumers. When it's available to a substantial majority, it no longer has to carry qualified messages about its recyclability.
"Thanks to the always-growing list of recycling program coordinators, facility operators and recycling company representatives who recognize firsthand the value of carton recycling, we have been able to achieve this remarkable success and are proud that carton recycling is officially mainstream," stated Jason Pelz, vice president of recycling projects for the Carton Council of North America and vice president of environment for Tetra Pak Americas.
On Feb. 1, the Carton Council will also launch a new consumer-facing website and national digital education campaign designed to encourage consumers to recycle their food and beverage cartons.
Change in labeling
Before the milestone, the Carton Council recommended printing text on cartons stating that cartons are only recyclable where facilities exist and telling consumers to visit recyclecartons.com to see if recycling is available in their areas. Now, the group is recommending the chasing arrows symbol and text that says "please recycle" and "recyclecartons.com."
Derric Brown, vice president of sustainability for the Carton Council, told Resource Recycling the group asked brands to continue referencing recyclecartons.com on the packaging so households would know where to check whether carton recycling is available in their areas.
The Carton Council believes more brands will opt for the unqualified recycling logo now that it's an option, said Brown, who is also director of sustainability for Evergreen Packaging.
"We hope that there are more packages with the recycling logo on it," he said.
Still, it could take some time before the new messaging hits store shelves.
'Improves recycling overall'
The 60 percent figure totals more than 70 million households in 12,500 communities. Access includes both curbside collection and drop-off options.
The Recycling Partnership, a nonprofit group that works to improve curbside recycling programs in the U.S., said the milestone represents a win both for the Carton Council and the recycling industry as a whole.
"Increasing the amount of materials that can be recycled in a community helps meet local recycling goals," said Keefe Harrison, executive director of The Recycling Partnership. "It also makes recycling more convenient for residents, which improves recycling overall. We celebrate this achievement alongside the Carton Council, who is also one of our funders."
Brown said the Carton Council would continue its work.
"We're going to continue to add access," he said.
Timeline of growth
In 2009, when the Carton Council was formed by four major carton manufacturers — Elopak, SIG Combibloc, Evergreen Packaging and Tetra Pak — only 18 percent of U.S. households had access to carton recycling. At that time, only one mill was recovering fiber from cartons.
The Carton Council started with supporting end markets and then moved upstream, Brown said. The Denton, Texas-based group ensures MRF operators have the equipment they need to sort cartons, providing grants to fund a variety of solutions. As examples, they could include platforms and bunkers for manual sorting at smaller MRFs, air-handling systems at bigger MRFs and optical sorters at large, high-throughput facilities.
Once downstream solutions are in place, the Carton Council works with outreach programs to help get the word out that cartons are now accepted, he said.
As of this year, more than 100 materials recovery facilities (MRFs) are accepting cartons and 10 plants are recycling the fibers into new products, which include tissues, paper towels and office paper.
The community that pushed nationwide access above the 60 percent threshold was Pierce County, Wis., said Heather McNamara, a spokeswoman for the Carton Council. The community, which is just across the state line from the Minneapolis-St. Paul metropolitan area, represents the addition of about 10,000 households.
The Carton Council released a timeline of carton-recycling milestones leading to the 60 percent access achievement this year.