Most West Coast materials recovery facilities (MRFs) are not equipped to sort plastics beyond PET and HDPE bottles. This material is often referred to as 3-7, but it includes small rigid plastic of all resins, as well as missed PET and HDPE bottles. It is this mix that is struggling to find a market in the wake of National Sword. Though the 3-7 bottle and small rigid category makes up just 15 percent of all plastics collected, it carries significant economic implications.
Polypropylene (PP) is the largest component of these bales. Taking California as the West Coast example, not recycling PP translates to at least $4 million in lost revenue (based on current scrap pricing), about $2 million in incurred landfill costs, and lost CO2 reduction savings equivalent to the emissions of nearly 5,000 cars on the road every year.
The charts below are estimates based on More Recycling's expertise and industry knowledge and from data that's been compiled from a variety of industry studies supported by the Association of Plastic Recyclers (APR) and the American Chemistry Council (ACC), among other organizations. Check out other key data sets and tools supported by APR and ACC at PlasticsMarkets.org and RecycleMorePlastics.org.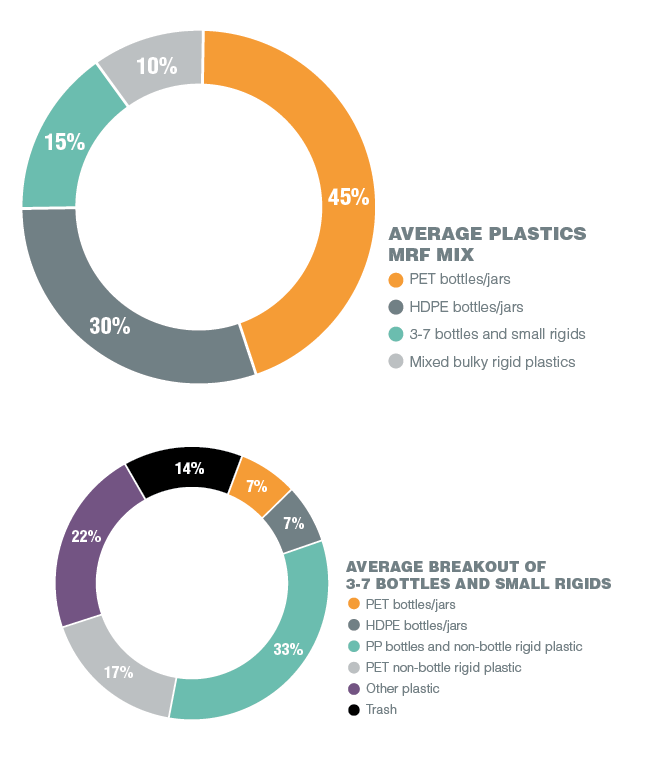 Data Sort is produced each quarter by More Recycling. For additional information, go to morerecycling.com.
This article originally appeared in the Summer 2018 issue of Plastics Recycling Update. Subscribe today for access to all print content.